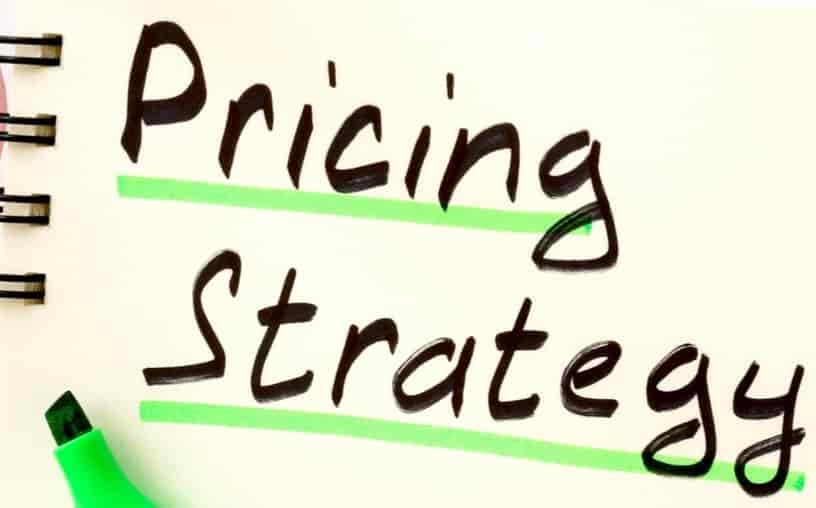 Does you company manufactures or sells products and goods that fall under the same category but do not know what the right product line pricing strategy to attract customers and generate more sales? In this post you'll find everything about Product line pricing strategy and how to price the products strategically if you have a broad product range.
Product Line Pricing Strategy is a process that companies use to separate products into various cost categories that helps consumers differentiate among quality levels of the products in the same category.
For example, a mobile phone company offering different smartphones with different features at different prices.
When it comes to product pricing Good-Better-Best (G-B-B) approach has been in use for over 100 years. It is evident in various examples when almost 100 years ago, Alfred Sloan introduced a "price ladder" to differentiate Chevrolets and Buicks from Oldsmobiles and Cadillacs, creating "a car for every purse and purpose" and powering General Motors to overtake Ford. Other modern examples of G-B-B include fuel pricing at Gas stations such as regular, plus, and super fuel or Cable TV providers market basic, extended, and premium packages.
According to Rafi Mohammed, a well known Pricing Strategy Consultant and author of the Books 'The Art of pricing' and 'The 1% Windfall', explains that Some Product Line Pricing Strategies are based on Consumer Psychology and this pricing strategy is not aimed at luring at luring new customers or defending against competitive threats; they're more-general responses to consumer psychology.
However it is a common practice by many companies that have multiple product lines to use a product line pricing strategy that creates an impression of value toward certain products in the same category. Such a pricing technique is often used by companies to create cost categories that separate goods into different levels of perceived value. The best example of this strategy in use in the modern times is how car companies price various models. Same model of car can have 3 or 4 different variants and for the top variant with extra features you have to pay more while the base model remains the cheapest with only the basic features.
When a company creates large price gaps between the products in the same category it makes it easier for the consumers to identify the difference in features and quality details among product variants or models and that's why it is the most effective way of pushing a consumer towards buying a higher value product.
What is a Product Line?
5 different types of Product Line Pricing Strategies that are most common:
Captive Pricing – Under the captive pricing strategy a company offers a basic product that they sell at a low price or given away for free. However, as a consumer you will receive the full benefit of the item when you buy additional products. The company might lose money on the base product, but it will make a fairly good profit on the additional products.
Leader Pricing – Leader pricing strategy is used by retailers to generate store traffic. The product(s) used to get customers into the store are known as Loss leaders. The idea behind this strategy is that customers walk into the store to purchase loss leader but they will often end up purchasing additional products at a full retail price and retailers make profits on additional purchase of items.
Bait Pricing – This strategy is used by several retailers from time to time to encourage customers walk upto the store by advertising a product that is actually out of stock. When the customer walks in to purchase the advertised product he/she will find out the product is out of stock and he/she will then be encouraged to purchase a similar, higher-priced item that is available in store. This strategy is viewed as unethical by many and sometimes even illegal but you may see it in practice many times.
Price Lining – Price lining is a popular concept for a certain type of store today. With this strategy, retailers offer a wide range of products, all for an identical price. Dollar stores use this technique very successfully. While individual products may have different values, the identical prices for all goods make it easier for consumers to want to make multiple purchases at one time.
Price Bundling – Products that have several different options or accessories available are sold using bundled pricing. Instead of a consumer having to purchase each item separately, the items are packaged together and priced as one item. This is usually at a discount than what it would have been priced at when purchasing each item separately.
Now, which product line pricing strategy is best for you depends on the products you offer and whether you are offering products to the existing customer base of targeting new ones.
What Product Line Pricing Strategy Is Best?
There are several different types of Product line pricing Strategies that can be used by companies depending on the type of products and the customers you are targeting. Successful product line pricing strategies are designed keeping company's entire product line in the loop and take each item into account to ensure profits on the entire product line in the long run because it's never been easy for any company to revise the prices after months or years once the product is already selling on the market.
According to Mckinsey & Company, the problem is that if companies price products too much, it won't sell and pricing too low is far more dangerous: a company not only forgoes significant revenues and profits but also fixes the product's market value position at a low level. Another problem with pricing products is that once a product hits the market, it is nearly impossible to raise them.
Product mix pricing strategy is a widely used pricing strategy by several well known companies such as Gillette. This pricing strategy takes into account the entire product line while selling each product individually. One such example of product mix price lining is of a well known company that sells razors. Gillette offers razors at a discounted price and sometimes even for free or as a loss leader, while the replacement cartridges are priced much higher. For example a single Mach 3 Razor Handle and one cartridge would cost $5.99 while replacement cartridges often come in bundles of 5, 10 or 15 and cost US $24 or more. This way customers have to pay a higher price for replacement cartridges where company actually makes a fairly good profit.
Learn everything about Kylie Jenner's marketing strategy that she had used to build Kylie Cosmetics which is valued over US $1 billion.
Another pricing concept that works well for service providers such as Cable TV services, internet service providers, mobile service providers, and insurance companies is Bundled pricing strategy. Under Bundled pricing, one product may have a standard price, but if a consumer chooses to buy multiple products, then the price may be lowered to half or less for each one but it should be bought as a bundle and not individually.
Product Pricing strategies in Marketing – Types of Pricing in Marketing
Pricing Strategies for Larger Product Lines
Companies that have large product lines often use a pricing concept known as Leader Pricing under which companies offer a product known as loss leader. A loss leader is a product which is used to generate traffic in-store or to bring people into the store. It is offered much lower than the actual price and company often sells it at a loss but cover the losses by selling additional products to the consumers at much higher prices. One of the best examples of this is a retail store that price match a certain product in their neighborhoods and advertise the product to attract customers. Even if the store would lose money by selling the advertised item at a lower price, they'll still make a profit by selling a cart full of other products to the consumer while a customer is still shopping.
There's another pricing strategy used by companies with larger product lines which is known as Prestige pricing. This strategy is designed to attract customers looking for products with a high perceived value. However, offering these items at a discount can actually hurt sales of a company and the bottomline. By raising the price of products to one higher than normal, companies are able to make more profit both from increased bottom line and increased number of customers. Examples of these types of products include luxury watches, luxury cars, high-end fashion accessories, perfumes and other goods that are attractive to those that fall in the higher income groups.
We hope the above post on Product line pricing strategy will help your company or business to price your products accurately for the consumers without giving away much of your margins and optimize the product prices that will attract new consumers as well in the months and years to come.
Air Conditioner Installation Cost
Cost to open Anytime Fitness Franchise
Cost of Opening TopGolf Franchise
Cost to Open Toyota Dealership Franchise
How to create online courses using done-for-you-courses?
Guide to launching Online Business
Cost to Open Anytime Fitness Franchise
How to Plan Finances Properly?
Five important things for every golfer
Cost to open Starbucks Franchise
Inspirational Walt Disney Quotes
Famous Quotes by Entrepreneurs
Find the Best Bank for Small Business in the United States
How to grow makeup and beauty products business
How to grow small business using social media
Free Email marketing software for Small Business
Find Small Business grants to fund your small business. 9 great sources.
Free Marketing tools for home business
Note: If you are a General Contractor, Heavy Equipment Manufacturer or an Equipment Rental company then join Advanton and advertise your Contracting Business or Equipment Manufacturing company to thousands of Residents across U.S. and generate Leads. Build a Great online presence with a free small business website & business emails.