Are you planning to rent tents for a party that you've planned or a wedding ceremony but do not know how much rental tent costs? In this post you'll find complete details about rental tent costs per square feet and average cost to rent tents for a wedding or a function.
On average, rental tent costs anywhere between $.65 and $1.40 per square foot of space or more. For a rental tent of size 15×15 square foot the cost would be $145 to $165 and it will accommodate 16-20 people and for a 40×80 square foot tent the cost could be anywhere between $950 to $1040 and it can accommodate 256 to 320 people. A basic Tent lighting costs $1 to $ 2 per foot. Tent heaters could cost anywhere between $125 to $250 each.
You've planned a wedding ceremony or an important function. It's a rainy weather and you need to have proper shelter for the guests to enjoy the function without getting wet. It could be a sunny day outside but there could be a forecast of sudden rain as well and in such as scenario you have to plan for renting tents. This where tent rental services and companies come in the scene. No matter how many guests would be coming to an event, there are tents of various sizes and combinations to accommodate any number of people.
When you're planning a wedding, you've been thinking about how to cover the expenses of tent rental. Maybe you've considered a loan from a bank or credit union? Well, if you have bad credit, that might not be an option for you. Wedding loans for bad credit scores are available for such situations. Wedding loans can be used for everything from the cost of catering to the flowers that will adorn your cake—and everything in between.
Types of Tents
There are different types of tents that vary in sizes, design and tent rental costs also vary. Below is a list of different types of tents:
Sailcloth Tents
These tents are made with lighter, semi-translucent material which lets in natural light during the daytime events and glows during evening parties. Sailcloth Tents are available in 40′ and 60′ widths. Sailcloth tents are the most beautiful of all of the tent options and will give your wedding or event an intimate feel because of the materials used in manufacturing the tent.
Pole tents
These tents are generally stacked on grass as they use poles to stay firm and they have at least one center pole but can also have several poles on the corners which can be covered with materials such as fabric, flowers or vines.
Frame tents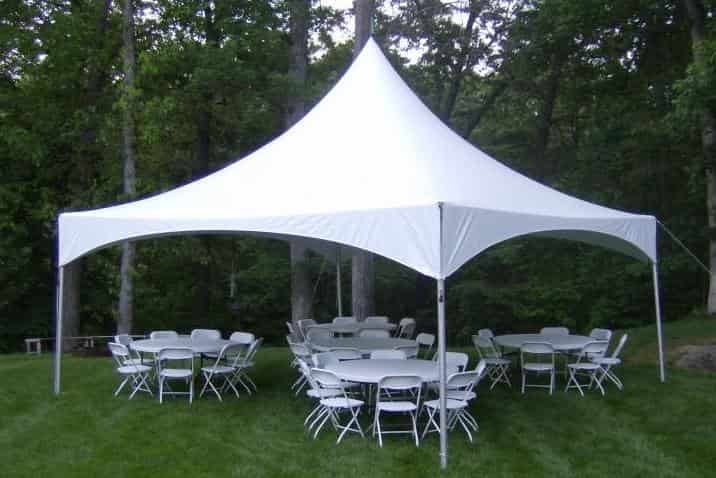 A frame tent is more versatile since it can go on multiple surfaces (including grass, asphalt, concrete or a deck). Since there are no poles inside the tent, it will give you more square footage inside since you don't have to plan your seating around the poles.
Cost to Rent a Tent for Wedding and Various Sizes
Tent Size

# of Tables
(8 ft. or 60″ Round)
# of People
Price
15 x 15
2
16 – 20
$160.00
20 x 20
4
32 – 40
$185.00
20 x 30
6
54 – 60
$210.00
20 x 40
8
64 – 80
$260.00
30 x 60
18
162 – 180
$580.00
40 x 40
16
144 – 160
$620.00
40 x 60
24
216 – 240
$820.00
40 x 80
32
256-320
$1,040.00
Capri
28 x 28
4
32 – 40
$250.00
A wedding tent will cost as little as $140 to rent a tent for one day and tent rental costs could be $1040 for a size of 40×80 which equals 3200 square feet and accommodate upto 320 people. In a small size tent 15×15 square feet you can accommodate upto 20 people and the rental cost of $140 is the lowest in its segment. This is for a very small group or, perhaps, a good tent for a single booth or gathering.
It will cost $185 to $210 to rent a tent which is enough for accommodating 32 to 60 people. This will get you a modest sized tent that is 400 square feet to 600 square feet in size.
On the other hand, large tents cost from $580 to $1,040 per day or more. These types of tents will have at least 1,800 square feet of space and will be enough for 160 to 180 people.
If your event gathering is going to be large then you need giant tents and these tents can be rented for $820 to $1,040 or more a day, plus $400 to $1000 in setup fee. These tents come in sizes 2,400 square feet to 3,200 square feet. Tents larger than the above sizes can fit 600 to 1,000 people easily. Tents can be custom made and setup as per the requirements of the customers.
To give you an idea about what size of tent you require for an event or a function, let's apply a 'Rule of thumb'. You should use the ratio of one person per 10 square feet of space.
10 square feet of tent space= 1 person
As mentioned above it will cost $.65 to $1.40 per square foot of tent size.
How much does a wedding Tent Rental costs?
Note: Tent rental costs mostly include tables and generally table comes in 8ft size or 60″ round. Tent rental services include a minimum of 2 tables for a small size tent of 15×15 square feet. Remember that tables are required to seat people and table size is a big factor in the amount of people you will be able to seat in a tent. Will the table be 8ft rectangular in shape or 60″ round that will be able to seat more number of people? It's a matter of preference and budget which table size you prefer. Bigger tables will, ultimately, save space and seat more number of people.
You can choose round tables, rectangular, or square tables depending on your preference but round is the most common shape for tables as it provides consistent seating arrangement. Round tables are considered much more social than rectangular shaped tables or square tables. It will cost $50 to $100 to rent a disco ball.
Chandeliers are common in tents as they add both charm and elegance to a tent. They are also used for decoration purpose. It will cost $50 to $500 to rent chandeliers for a tent. If you are hosting an anniversary party or a wedding ceremony or if it's a corporate event then you might want to add charm to the occasion by adding chandeliers to the decoration list. Chandeliers will definitely turn your event from a tent party to an elegant affair.
Other Materials that add up to the Tent Rental Costs:
Basic Rental Tent costs for Smallest size: $140 – $165 for your smallest tent of Size 15×15 Square feet. It is enough for accommodating 16 to 20 people.
Generator Costs: $500-$1,250 or more depending on the electricity requirements.
Chandeliers: $50-$500/each or more based on what you choose for the decoration.
Flooring Costs: Tent flooring can run anywhere between $1-$3.50 per square foot, so estimate between $250-$1,500+ depending on the type you choose such as plastic or wood.
Tent heaters: $125+/each or more and you may need more than one heater for a larger size tent.
Air Conditioner Installation Cost
What is Product Line Pricing Strategy?
How to Plan Finances Properly?
Guide to launching Online Business
Cost to open Anytime Fitness Franchise
Sunbelt Rentals, Equipment Rentals company U.S.
Asphalt Driveway Cost vs Concrete Driveway Cost
Los Angeles Home Improvement Cost
Sales leads for flooring contractors
Marketing for Roofing contractors in Los Angeles
Leads for Contractors in New Jersey
Leads for contractors in Boston
Leads for contractors in Los Angeles
Tips for Painting leads generation
Best HVAC contractors New Jersey
Marketing for HVAC contractors and HVAC leads
Cost Comparison Resurfacing vs Revamping driveway
Note: If you are a General Contractor, Heavy Equipment Manufacturer or an Equipment Rental company then join Advanton and advertise your Contracting Business or Equipment Manufacturing company to thousands of Residents across U.S. and generate Leads. Build a Great online presence with a free small business website & business emails.