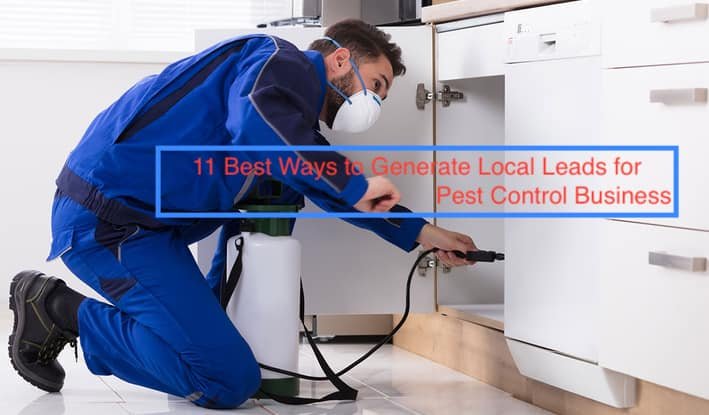 There are hundreds of thousands of Pest Control companies in the U.S. competing with each other everyday to grab more customers in their areas of service. Pest control can be a profitable business if you can get quality pest control leads on a daily basis but if you are a new Pest control company in your area then it can be difficult for you to generate business without proper lead generation strategies. A lead is a person or a business who has shown interest in your service or product and eventually may buy from you. In a Pest control business a homeowner or a business owner looking to get rid of Pests, roaches or termites can be a potential lead. If you are tired of pay per click, link building or Adwords paid advertising or purchased pest control leads for sale but failed and looking to grow a pest control business then in this post you will find unique ways to generate best pest control leads and everything about organic search marketing and internet marketing to boost your online business.
How Big is the Pest Control Industry in the U.S.?
Pest Control Industry in the U.S. – Facts & Figures
There are over 27,000 business operating in the Pest Control industry in the U.S. as of 2019.
By 2023, Pest control industry in the U.S. is project to generate a revenue of US $17.4 billion.
Orkin, Terminix, Ecolab, and Rentokil are the major Pest control companies in the U.S.
68% of the total Pest Control services are delivered to the U.S. households.
Most Rat infested U.S. city is Philadelphia.
Most cockroach infested U.S. cities are Tampa and Houston.
People often search online for a Pest Control Service provider when they have pest problem and start to research it, or it could be someone looking up how to identify rodent droppings. These people turn into a lead for a Pest Control company when they give over their contact information to the company on their website or over the phone or email, in exchange for something like a free checklist to determine if you have termites or a free inspection.
A video tutorial on how to get exclusive Pest Control Leads
11 Unique Ways to Generate Pest Control Leads
Lead generation for Pest Control contractors is an important process to keep the sales funnel full and generate revenues on a regular basis, it also ensures that you have enough work month-on-month. When visitors turn into leads, it signals that they are serious about your service or product and they intend to buy from you. It is up to you to nurture those leads to turn them into customers. Let's dive deeper into the topic now how to get new pest control customers and generate pest control leads:
1. Identify your Target Market for Pest Control
The first step is to identify the target market when it comes to lead generation for pest control contractors. You cannot succeed in marketing without knowing your target market. Identify where your customers are and who can be your potential customers that need Pest control. Do some research on pests, rodents and insects and you will be able to figure out your target market.
Pests mostly breed in places where there's moisture, warm temperature and plenty to eat, in places such as Restaurants, bakeries, cafes and houses. Now, that you have identified your target audience it is time to learn the techniques for generation pest control leads.
2. Create a Website for Pest Control Business
The second step towards lead generation for Pest control contractors is setting up a mobile friendly website to generate business online. A website for Pest control business should be unique, simple to navigate and contain all the important information about the business. Include Services page with all the pest control services that you offer, a contact page with a location map & address and pages for cities where you offer the services. Here's a useful guide on how to create a free website for business.
3. Optimize Website for Local Search to generate Pest control leads
Google Search engine and all other search engines show local businesses and service providers in search results when a user performs a search looking for a local service provider. This is known as local search results and it picks up websites as well as business listings that are optimized for local search. You can do some basic Seo optimization to make your Pest control website local Seo friendly as it will help you improve your local marketing and get pest control leads:
Add proper city names to the website and create individual web page for each city where you offer services.
Add a location Map, address and phone number on the Contact Us page to help Google identify your location.
Also, add a map, address and phone at the bottom of the website.
Use keywords and phrases combination for Pest Control providers that people generally use when searching for a local service provider.
Create content for the website that is useful for the local residents in your area. e.g. if you provide Pest control in Houston then include cockroaches in your keywords as Houston is infested by cockroaches than any other city in the U.S.
Local Online Marketing is very powerful and can open new doors of revenue streams for your Pest control business.
4. Writing and Sharing Valuable Content for Pest Control
Writing content which is helpful and relevant in solving Pest control problems can be a real game changer for a Pest control contractor. A great piece of content has the ability to attract visitors to a website or a blog and generate leads. There are so many options when creating content. It can be blogs, eBooks, whitepapers, videos, podcasts, etc., that is relevant to Pest Control issues. Share your content on your website, blog posts, content sharing websites such as Medium.com and Reddit.com. Content creation is a part of digital marketing strategy for pest control business and it should be written with search engine optimization in mind.
5. Create Local Directory Listings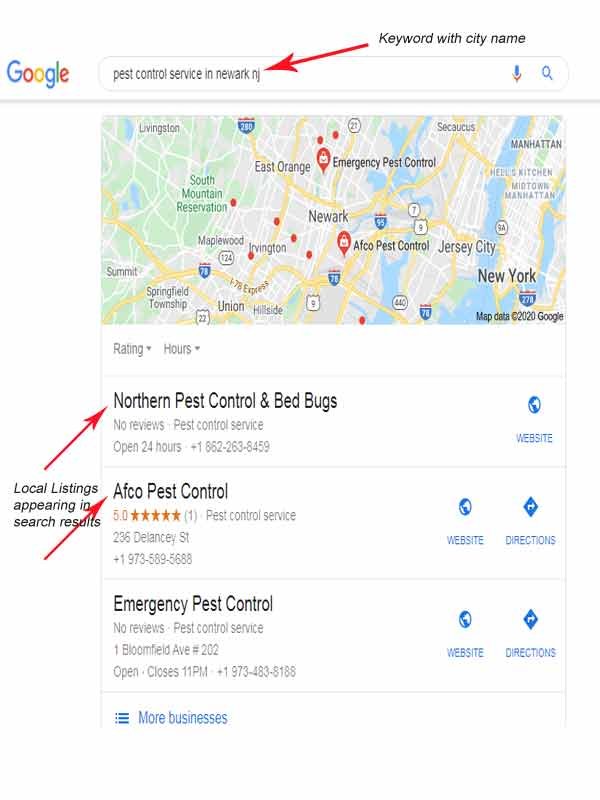 List your Pest control business on local business directories as well as create a Google Business Listing. Local directory listings help spread business locally among customers and also boost online visibility in search engines that generates pest control leads. Local online directories listing are also a great way of getting backlinks to boost search rankings. However, remember to use correct Business name, phone number and address to ensure consistent records across the web and optimize local listing.
Here's a very helpful guide from Moz.com about creating local business listings for local business promotion & SEO.
6. Collect Customer Reviews to Build Online Reputation among local audience
Collecting customer reviews are very important when it comes to building trust and online reputation in the local market. Reviews from old customers are a proof of your past work and they can be very helpful in getting new pest control leads and customers. There are hundreds of review websites online including Google Business Listing, where you can ask your customers to leave positive reviews about your pest control business. Always, make sure that you deliver top notch service with a smile to the customers and in return ask for a positive review on review sites. Positive reviews also help in boosting organic search rankings in local SERPs.
7. Create Social Media Profiles
This is the age of social media and by creating business profiles of your Pest control business on social media websites such as Facebook, Twitter, Instagram, etc., you can connect with the local audience to promote your business. There are hundreds of local groups on Facebook that you can join from within your area of service and promote your pest control services to generate local pest control leads. On Twitter you can tweet about useful and relevant content related to pest and termite problems at home and post your actual work images on Instagram to create awareness among a wider audience. If you do not want to spend much time on social media promotion then there are several social media marketing tools available that can cut your efforts into half by automating your tasks.
8. Get References
When you start a new business, the easiest way to find prospects is by asking your family members and friends if someone is looking for a Pest control in their circle. This can be good start for you. Your friends and family can provide you with valuable references that you can contact directly and offer your services. Do the excellent work at their locations, so that they can refer your pest control service to their friends and family and you get more pest control leads.
9. Network with other Local Businesses
One of the easiest and effective ways to generate leads for business is by getting in touch with other local businesses and exchanging business information. Local business owners often exchange leads to generate sales. Try to contact local plumbing companies, painting companies, remodelers and general contractors to get pest control leads. Homeowners often ask for reliable Pest control providers from their plumbers and contractors.
10. Create and Share Pest Control Videos
Make videos of your Pest control projects and try to provide helpful tips in your videos for homeowners about Pest control at home. These days helpful videos show up in search results and can be very helpful in promoting your Pest control company. Creating and sharing videos on youtube can drive hundreds of pest control leads every year.
11. Engage with your Customers through Email Marketing
Mostly business owners do not keep their customers engaged after completing projects which is not good when it comes to generating repeat business. A follow up call after few days to check about your Pest control results or a thank you email to the customers would go a long way in building trust and generating repeat business from old customers. Make it a habit to follow up with old customers from time to time and you would notice a surge in referrals and repeat business.
Another simple and effective way of engaging with your customers is email marketing. Email marketing is still the most cost effective way of generating leads for business. You can signup for free email marketing software and create newsletter emails to send to your customers. You can send few hundreds to thousands in a promotional way in one click.
FAQ about Pest Control Business
Q: Is Pest Control a Profitable Business?
A. If managed well, Pest Control can be a highly profitable business which an easily generate a profit of US $72000 – $75000 annually.
Q. How much does it cost to start a Pest Control Business?
A. Starting a Pest control business doesn't require much capital and it can be a home based business. But to give you exact details about starting up costs: a new pest control business requires as little as $10,000, which easily covers up the cost to procure spray pumps, good quality pesticides, licenses and insurances to run the business.
Bottom Line
There are several ways of generating leads for pest control contractors and you never know which ones are good for you until you try. We've mentioned some of the best ways to generate pest control leads for your convenience in the post above.
As with any business, you have to be consistent in efforts to generate sales and deliver top notch services to the customers to help your business grow by building a reputation and a name for itself on the market.
If you are looking to grow your Pest Control Company or contracting business then join ADVANTON. With a Strong online presence, equipped with local search optimization, online marketing apps, business emails and a website for Pest Control Contractor, your business will get Pest control leads every week.
Also, read our Marketing Success Stories of Local Contractors.
Leads for Contractors in Boston
Leads for contractors in Los Angeles
Home Improvement Cost Los Angeles
Asphalt Driveway Cost vs Concrete Driveway Cost
Leads for Contractors in New Jersey
Leads for painting contractors
Home Remodelling Contractor Boston
Tiling and Flooring contractor Los Angeles
Sales leads for flooring contractors
Fire Alarm Installation Contractor, Boston
Insurance Leads generation Company
Local Plumbing Contractor Boston
Note: ADVANTON helps over 10000 Small Business generate 100% local sales leads and income every month. All-in-one CLOUD platform for Website design, Free Business emails and Online marketing apps for leads generation for painting contractors in the U.S.
References:
https://www.statista.com/topics/3954/pest-control-in-the-us/
https://keap.com/resources/using-video-lead-generation
https://www.houstonchronicle.com/business/houston-how-to/article/Roaches-are-everywhere-How-do-I-get-rid-of-them-14446305.php