Creating Online Presence for Small Businesses in USA is a necessity in today's fast paced internet age because your business's online reputation is everything. If you don't have a website for your small business, business emails, domain name and a CRM then you may not be able to reach out to the local customers that are searching online for a similar business like yours. Building a web presence for Small Business in USA helps local buyers find local businesses online and contact them instantly. You need to have a strong web presence if you want more local customers visit your physical store or call your business number asking for a service that you offer.
What is online presence for a Small Businesses?
When a business or entity can be found anywhere on the web while searching online through search engines or in a business directory then it is known as online presence. E.g. you may not have an online identity as an individual but if your business is listed anywhere on the internet in business directory listings or Google places then it means that your business has an online presence you can optimize it further to generate better sales. A web presence is everything for a small business in today's digital media age and small business owners should focus on creating a strong web presence and manage it well to reach local buyers that search online.
Why does a business need web presence?
With over 80% users searching online for a local business or a service provider everyday, not having your business listed on the internet in business listings and Google Business listing means users won't be able to find you or contact you when needed. Having an online presence helps users find a business online and it is also one of most effective marketing strategy for a business, as consumers these days first search online and then make a purchase decision.
New age businesses must ensure that they are not left behind in the internet search race and should create an online presence to reach out to the local and global customers.
Whether you are a local business or you provide services nationwide if you don't have an online presence and business emails then you would lose business on a daily basis and you might not notice it because until now you have not really experienced the power of digital and online business.
Here's what you get with a Web Presence for Small Businesses in the U.S.
Free Dynamic Custom Website (CMS based)– Custom Website with a mobile friendly design for your Small Business that reflects your business and brand based on WordPress CMS for easy content updates anywhere, anytime.
Well Written Content for Website Pages– Custom Written content for all the pages of your website with optimized keywords for search engines.
CLOUD hosting platform – Our CLOUD will host your website and also provide you storage of upto 20 GBs.
Business emails (25 users)– Free Business emails setup and integrated with your website so that you can communicate professionally under your company's name with your prospects and customers.
CRM– We also provide you with a Free Customer Relationship Management Software that enables you to manage your prospects, leads, boost sales and close more deals in less time.
Free Online Marketing (Basic)– When you order your website with us we also make sure that it works for you and not just sleeps and so, we do all the optimization, marketing and SEO for 365 days to ensure that it his visible in search engines and generates leads for you every month.
Local Listings – Submission of your website on online directories  to create local listings for your business.
Get your free business emails setup and running now within minutes and start communication with your prospects and customers professionally under your company's name or brand name. e.g. sam@yourcompany.com or contact@a1logistics.com.
Give us a call or fill up the contact form and our CLOUD team will setup your business emails for you.
Online Presence for Small Businesses in USA enables small businesses to reach local customers for free.
Apart from the above you will also have access to the Backend of your website so that you have full control over it always and you can work freely on your reputation management by collecting reviews from popular review sites.
Our CLOUD team will manage, monitor and market it all throughout the year to ensure your Small Business grows quickly and generates 100% income like our other 10000 small business customers.
No Contracts – No Credit Card Charging – Simple invoice based payments via PayPal
Get Started now and improve your online presence that guarantees 100% income every month and growth.
100% verifiable references from our customers and their live websites that generate
100% income for their small businesses across US, Canada and Europe.
No need to spend hundreds of thousands of dollars anymore for creating online presence for Small businesses USA.
Everything in one Online Presence Solution for Small Businesses USA that includes Free Custom Business Website, Free Business emails, CRM software & Free online success marketing for a year. Free forever.
Let's discuss more in detail that why your small business in USA needs a web presence?
As a small business owner you cannot ignore the internet and benefits of improving your online presence for small business.
More than 95% of consumers search online for a local business or for finding a suitable service provider located nearby.
If your business does not appear in those search results then you are losing 95% of your potential customers.
Therefore, having a strong online presence for Small Businesses USA is crucial for growth and revenue generation.
Having a content rich website that reflects your industry and your business makes it easier for the customers to find relevant information about your business, products and services. Creating backlinks, pay per click and spending on Adwords won't deliver results in today's time as you expect.
Before getting in touch with a service provider directly, customers search for the information on the website.
It is important that your website has all the relevant information that gives customers a sense of trust.
It is an important aspect for building a long-term relationship with them so that you can get repeat business.
Online Presence for Small Businesses in the U.S. is important for both inbound marketing as well as outbound marketing.
You cannot succeed in today's time if you do not have a web presence or if your business doesn't have any digital identity such as a domain name, business website, company emails and social media pages.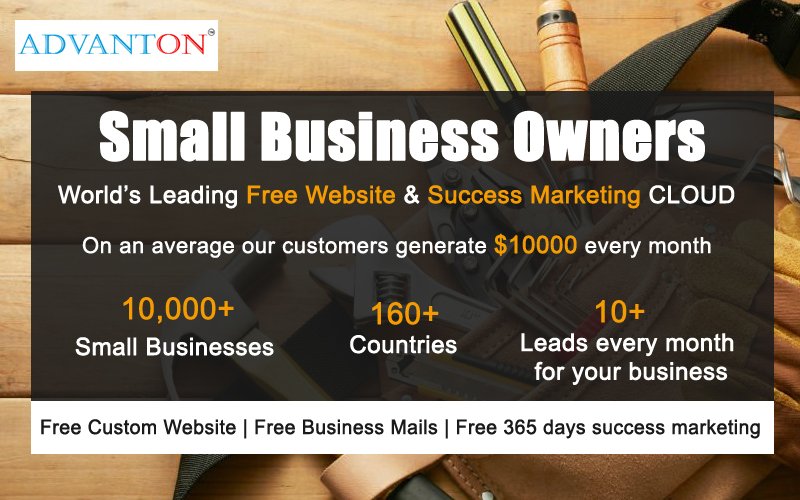 How to create Online Presence for Small Businesses?
Steps to create a Strong an online presence for Small Businesses:
1. Create a Business Website
Whether you are a small business or a medium enterprise you need to have a website that has all the relevant information about your business, products and services so that it is easier for the customers to get to know about your business.
Whether you are an electrician, a contractor, a dentist, a physician, a computer repair shop, an attorney, a law firm or a restaurant – not having information about your business online means potential customers can never be able to discover your business.
One of the primary reasons why you have to depend on your 5% offline or referral customers is not having an online presence.
Having a website is as important as getting your business cards printed and you won't believe that setting a business website is equally simple and easy nowadays.
Read our complete guide on how to create a website to create your own website in few simple steps.
Also, there are many Content Management Systems (CMS) such as wordpress, Joomla, Drupal that are free and simple to use to setup a dynamic business website.
If you are confused about the information and pages that you should have on your business website then it is always a good idea to get some feedback from your existing customers and ask them what they like about your business.
Try to gather all the relevant information and arrange in one place about your business before setting up a website.
2. Setup Business Emails
When you run a small business or in the process of starting one then communication is the key to succeed and to look professional.
Your customers and prospects expect you to communicate professionally and having company emails can make a huge impact on your image.
E.g. if you have a dental clinic and you send your patient an email about the change in appointment timing from your personal email account on gmail or yahoo or outlook then its confusing.
Also, your email may get lost in his/her inbox as your patient won't get the idea from where it came and who sent it or he/she may delete it without even opening it.
So, business email represents your business name and differentiates your from the rest and your patient or customer immediately recognizes your email in his/her inbox.
So, what's exactly a business email and why it's an important part of online visibility?
Business email carries your brand/business name that you have in your domain name.
e.g. your website address or your domain name is www.a1dentalclinic.com so, your business email can be like john@a1dentailclinic.com or dentist@a1dentalclinic.com or any other that you prefer to setup and that's exactly what business email is.
3. Invest in Search Engine Optimization (SEO)
No matter how beautiful your website looks and it has all the relevant information about your business but  if customers can't find your website online then its of no use because it won't generate business and leads for you.
So, in order to appear in search results online you have to focus on optimizing your website for search engines such as Google, Bing, Yahoo and many other.
In a report it was found that 94% of the consumers search online for making purchase decision so not appearing in search results means you are losing whole lot of potential consumers everyday.
Search engine optimization or SEO is a technique to make any website search engine friendly so that it can appear in search results for particular keywords.
No matter what your business is but if you want to grow your business and want to generate a stable income every month from your small business then you should be focusing on SEO.
Also, SEO helps both your website and business in long-term and you don't have to worry about burning your $ on advertising which may or may not yield results.
A small investment in search engine optimization every month will go a long way.
You can start optimizing your website on your own with our simple step-by-step search engine optimization guide
or you can start as beginner with MOZ SEO guide or Start with Google's Guide to SEO
4. Setup Social Media Pages
Social Media Presence is equally important for every small business as having an online presence so setting up your Facebook, Twitter and Google+ business is the fourth more important thing.
You cannot afford to ignore social presence due to two main reasons:
Google now counts social signal as a ranking factor
There are millions of active users every single minute on websites such as Facebook, Twitter, Google+, Linkedin and Instagram that you can engage with by sharing relevant tips, information, news and images.
Here's a guide on how linkedin can help grow your Business?
However, it is important to note that for any small business Facebook, Twitter and Google+ are enough to get started by setting up business pages but there are other social networks too such as Linkedin, Instagram, pinterest, foursquare etc.
Try to do a little bit of research on what suits best to your business.
Web Design company in Maryland, US
Marketing for roofing contractors in Los Angeles
Best Businesses in California to Start in 2019
Marketing for HVAC contractors in Florida
Leads for Contractors in New Jersey
Leads for Flooring contractors
Web Design for Clothing Company
Web Design for Real Estate firms
e.g. if you are small jewelry retailer then sharing images of your products on instagram and pinterest will bring in lot of engagement from the users and potential customers would show interest in your products.
If you are a computer repair business then sharing tips about computer repair services, protection from viruses and trojans on facebook and twitter is a good idea.
5. Web Directory Submissions and Local Citations
Local citations help local businesses get discovered by local customers.
It is very important that you create citations for your local business on various local business directories and web directories to build a strong online presence for small businesses.
Citations are nothing but a mention of your business name, phone number and address online.
Citations can occur anywhere on the internet such as web directories, business directories and local business directories.
It is a way of getting found locally and boosting your local SEO and presence in search results that within  a particular area.
Your business listing could appear on a google maps, foursquare or yellow pages for particular keywords related to your local business.
Always remember that creating local citations and web directory submission with accurate data makes search engines trust your business listing and your chances of ranking well in local search results increases compared to your competitors.
6. Manage Web Presence for Small Business using Analytics
Once you start building online presence for your business, its important to know if the efforts are paying off well. For this you need to manage your online presence using Google Analytics and other Web presence management tools. You should track your website using analytics in order make improvements and enhance its online visibility.
Analytics tools help website administrators to track visitors on a website and make improvements by analyzing the data. Google Analytics is one of the best free tool to track a website's performance. It gives you detailed statistics about the users visiting your website such as location, browser or device they from where they accessed the site, their age, source they came from and how they browsed through the pages. All this data helps you optimize your website further and enhance your web presence.
Website design company USA, website development company, professional web designers, custom website design services, web design agency USA, website design for lawyers, website for contractors, electricians, plumbers, website for hvac contractors, small business website design and cheap website design company.
Online Presence for small businesses USA for just $15/month. World's most powerful solution in the CLOUD that brings in leads and generates income every month.
Take your small business online today with Advanton guaranteed income generation and growth solution for free and always will be.
Learn more about Marketing Success Stories
List of best payroll software for Small Business
Learn what is Advanton
Looking for business growth? $15/mth to Create online presence for small businesses in the U.S. Call:
+1-205-624-7254

or

fill out the form on the right

to get started for free.