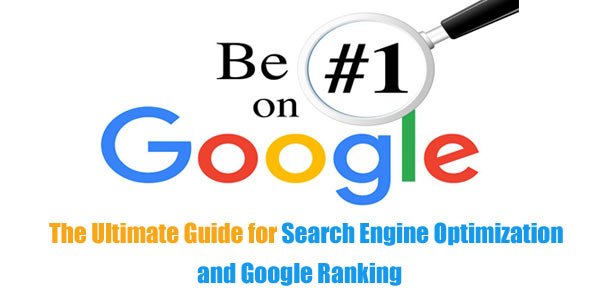 So, you are ready with your new small business website like thousands of other small businesses on the web but what's your marketing plan in order to compete with other businesses? That's why we've created this ultimate guide for Search Engine Optimization and Google Ranking.
Best Search Engine Optimization and Google Ranking Guide for beginners 2019
The truth is that it's like a war going on the web today among websites to rank higher in search results for generating more business and as a new website owner you can get lost easily in this war if you do not have a solid online marketing and search engine optimization strategy.
Today, we are discussing the most important aspects of on page SEO techniques that will help you boost your Google ranking and win the search engine ranking war if you follow the step-by-step guide.
So let's begin by understanding how Search Engine Works and how it retrieves the results based on your search queries?
Basically, search engine uses complex algorithms to crawl and index the data found on millions of web pages over the web in its database.
When a user types a keyword or a phrase the search engine analyses the keywords and matches it with the most relevant content available in its database and retrieves the results on the search pages.
There are many factors that affect the search results being retrieved e.g. you may see many not very popular websites coming on the first page of search results along with some most popular ones.
One of the reasons behind this is that the content on these not very popular websites is relevant and informative and many other popular websites must be linking to these not very popular or smaller websites.
Backlinks and Link Building we will discuss in detail in our next post.
For now let's focus on the fundamentals of the on page SEO techniques and how you must start with your website's SEO.
Here's a list of fundamental search engine optimization and google ranking techniques that you must implement on your website in order to have perfectly optimized web pages for better google ranking.
We will discuss these in details one by one.
List of points for step-by-step Search Engine Optimization and Google Ranking
Title Tag
Meta Description
Keywords within your content of the web pages
Content
URL structure
Images and Alt Text
Heading Tags
txt
Responsive Design
Outbound Links
Internal Links
Website Speed
LSI keywords
Social Sharing Buttons
So, let's start discussing each point mentioned above in detail to achieve higher search engine rankings:
Title Tag– it is used by both the users and the search engines to understand the content of the web page. The title is displayed in the search results and it is one of the most important on page SEO aspect.Write relevant titles for your web pages and it is important that your keyword is close to the beginning of the title tag because search engine gives it more weightage.
Add modifiers to your title such as 'best', '2017', 'review' as it help you in ranking for long tail versions of your target keyword. So adding modifiers can do wonders.
2. Meta Description– Although Google announced in 2009 that both meta description and meta keywords will no more be a ranking factor but Meta description is like an ad copy for your web page as it appears underneath the title tag in search result pages. It is important to achieve higher Click-through rate for the webpage that you are optimizing and so it must be well written summarizing the content of the webpage. Ideal length is 160 characters max. and search engine such as google uses meta description to match it with relevant content in its database for retrieving the results though it is not a ranking factor directly.
3. Keywords– Keywords are like the foundation of your entire SEO strategy and so they must be chosen wisely. As a business owner launching your website you must put yourself into your customer's shoes and then think what you type in a search engine to get results for a particular service or a product. It is important that you think as a customer who is searching for a service or product relevant to your business.
E.g. you are into Spa business and you assign keywords such as 'spa services', 'massage services' thinking that these are naturally related to your business but think again as a customer.
As a customer you might be looking for a 'day time spa and pool service', 'best deep tissue massage parlor' or 'best spas in miami' and so targeting these keywords will do the job for you.
Picking and assigning the right keyword for optimization the very first time can be a difficult task as it needs testing, testing and testing in order to analyze the performance and make necessary changes.
There's no hard and fast rule for picking the keywords for optimization.
It needs research, competitor analysis and testing from time to time in order to make changes and hit the golden keywords for your business website.
Keyword research and analysis tools by semrush andseocockpit can help you in making your job easier of picking up the right keywords for your website.
Then another aspect related to keywords is the density which means the number of times your keywords should appear within your page's content.
The ideal density in today's scenario is 2% to 3% which means for a 300 word blog post you can use your targeted keyword 6 to 9 times that must be grammatically correct and should make sense for the readers.
You can use your targeted keywords in the following manner:
1 x URL
1 x title
1 x heading h1 tag
1 x sub heading h2 tag
1 x img Alt tag
2 x paragraphs of the web page
Brian Dean of Backlinko suggests that dropping your keyword in the first 100 – 150 words is ideal as it helps google understand what your page's content is all about.
Note: Selecting the right keywords is the key to search engine optimization and google ranking.
Content– Nowadays, content has become the most important ranking factor for the search engines. The more useful and insightful information you have that you can share with the world the more weightage you get in search results. It's a simple logic and in 2017 as a business owner you must always keep in mind that search engines such as Google are smart enough to skip your website if it does not have informative, useful and high quality content. It doesn't matter how many back links you may have built paying your SEO firm or how many times you have shared your content on social sites.
So create long content atleast 1000+ words that answer users' questions and provide information about relevant topics related to your business and website.
High-quality content also increases your organic CTR (click through rate) which boosts your website's ranking quickly.
Google is hungry for great content and if you can feed it with long, well written and insightful articles or blog posts then you will win the search ranking war generating more business and revenues within a short span of time.
Note: Creating fresh and insightful content is the key to search engine optimization and google ranking.
Note* – Working on writing content which is engaging is one of the most important Search Engine Optimization techniques.
URL structure– Keep your page's URL short and keyword rich to make them SEO friendly. Shorter URLs tend to rank higher in search engine results compared to longer and ugly URLs. Don't forget to keep your keyword in the URL.
SEO friendly URLs is on of the key element for the search engine optimization and google ranking.
Images and Alt text– A nicely designed webpage mostly contains an image and it's also same for a blog post. It is always a good idea to add images to your blog posts and web pages as the graphical content is more appealing and engaging for the users but you must ensure that the image files are compressed and properly resized to fit the page. Compressed images play a vital role in enhancing the website's load time and performance.
The other most important factor that must always be checked and fixed properly is including your targeted keyword in the image file name and the Alt tag.
Google relies on the image file name and the alt tag to understand the page's content.
Add the right alt tag to all the images on your website's pages for search engine optimization and google ranking. 
Heading Tag– Heading Tags are used to structure the content of a webpage to make it easier for the users to understand the purpose of the text. From H1 tag used to denote the most important text to H6 denoting the least important text on the webpage. You must always ensure that your H1 tag always contains your targeted keyword.

High-quality tags help Google to understand what your webpage is all about and it also adds a hierarchical flow which makes it easier for the users to understand the content and its relevancy to the topic.
Robot.txt– It is a file that tells the google bot visiting your website to crawl it that whether it can crawl or not. Robot.txt file helps you to prevent certain pages of your website from being crawled and getting indexed such as your wordpress Admin page. It saves time as it prevents google bot from crawling and indexing the not so useful pages for the users of your website.
Responsive Design– Today, over 40% of the searchers are performed using mobile devices and so having a mobile version of your website is utmost important. In fact since 2015 Google started penalizing websites that are not mobile friendly.
Also, in 2015 Google has released its mobile-friendly ranking algorithm called 'Mobilegeddon' which is developed to boost the mobile-friendly web pages in Google Mobile search results so, now you can understand how important it is to have a mobile optimized version of your website.
If you do not have a mobile friendly version until now then do not wait more.
Get the mobile version of your website as soon as possible and let google know through the google search console.
Outbound Links– Outbound links are the links on the page's content that you can use as anchor text for linking to other website's relevant page. It helps google understand your page's topic. It is the number one SEO mistake that you can do if you do not use outbound links on your page. In a recent study it was found that pages having outbound links outranked the pages without the outbound links.
Try linking your content using anchor text to authority sites whenever possible as it is a relevancy signal for search engines.
Internal Links– Internal Linking is important as it helps Google discover your other pages on your website as well and it is the easiest way to inform Google about your other pages as well and get discovered easily. You can link to your other pages of your website or older posts every time you publish a new post. Ideally, you must insert 2 – 5 links as anchor text on each new post that links to other internal pages of your website that are relevant.
12. Website Speed– The load time of your website is now a ranking factor for Google and you should ensure that your website loads faster and pages are optimized for speed. Google loves faster loading websites as it gives users a better experience while navigating through the pages of your website. Ideally, your website must load under 4s time.
These are the few things that you can do make your website load faster:
Use a CDN such as CLOUD FLARE
Use caching plugins
Instead of a shared host try to switch to a VPS or a Dedicated Server
Compress the images on your website
Enable Gzip compression
Minify Javascript and CSS files to reduce the size of the webpage. One of the best things is to perform a Google Page Speed test and then read the recommendations from Google to optimize your Website
13. LSI keywords– Latent Semantic Indexing is a technique used by Google for the indexing and retrieval purpose in an unstructured collection of text. LSI keywords are related keywords or phrases and works on the principle that words that are used in same contexts tend to have similar meanings. Therefore, using LSI keywords in your posts is always a wise choice. If you write long content then you do not have to worry much about LSI keywords.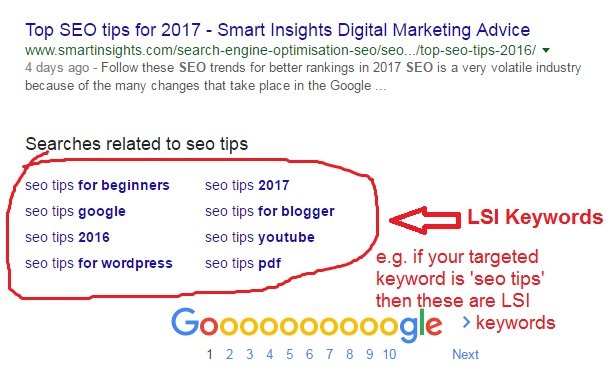 LSI keywords can do wonders for your search engine optimization and google ranking so always include them within your content and paragraphs.
Social Sharing Buttons– Social Signals to your website or content sends a positive signal to Google that your content is useful and so it is being shared though it is not a Google Algorithm Ranking factor. However, if your content is being shared by the users there are chances that other websites link to it. So, always place social sharing button on your webpages and posts as it can boost social sharing significantly and may give your rankings a boost indirectly.
Social signals is one of the ranking factors in the google's 200 ranking factors so, for achieving a good search engine optimization and google ranking always keep in mind the social sharing of your content and how to boost it.
All the above points discussed in this post are important for your new or old website as these are the fundamentals of on-page SEO.
Without a perfectly optimized web page you cannot expect boost in your rankings and organic traffic.
On-page optimization is the first step towards a good search engine optimization and google ranking.
However, there are several other factors as well that are a part of on-page SEO techniques such as increasing your CTR (click through rate). More clicks to your website for keywords means your website or webpages are relevant for the users and Google pushes it up in rankings.
Now, the question is how to increase your CTRs? Well, as mentioned in point #4 above, that writing high-quality content is the key to getting high CTR and boosting your website's rank so, you should always focus on publishing content which has a 'wow' factor for the users.
Step-by-step guide to show you how to create a free website for your small business
Guide to Digital Marketing for Small Business 2022
If you are serious about your business then you should start making modifications and fixes right away to your website as it will only lead to positive results, more sales and revenues.
Search engine optimization and google ranking factors keep evolving with time so you should always do your own research rather than relying on your SEO agency.
There's no magic trick to getting traffic and customers online and paying your SEO firm thousands of dollars every month makes absolutely no sense as only you know better about your business and you are the expert in it so, who else can do it better than you.
Achieving good search engine optimization results and google ranking takes sometime and research so, don't be in a hurry and let the modifications done by you get indexed by google and see the positive effects.
Take some time off and start with point #1 and make changes to your website and then see the difference in few days to your website's organic traffic. Cheers!
Read our ultimate guide for search engine optimization and google ranking to boost for small business website's ranking and revenues.
Best Guide about Domain name ownership and the importance of domain names
Best Advertising Ideas for Small Businesses
Free Marketing tools for Home Business Owners
Basics of SEO for Online Marketing
Note: Looking for a strong Online Presence with Free Business Website and Free online marketing for your small business to achieve quick growth and income?
Advanton's free solutions enable over 10000 small businesses every month to generate more business and revenues in over 160 countries.
Call US: +1(205)624 7254 or Europe +44(203)695 0021 or leave us a message from any country to get started with our free solutions.