A domain name is your business's digital identity and it can make or break your online business. Choosing a right domain name can be a bit tricky as it's not easy to find a perfect domain name that you are looking for. Most of the times a domain is already booked that you are looking for and sometimes you are unable to decide which domain name to choose. Right domain name goes a long way in building a business online and can highly boost your organic growth through online searches. A domain can also play a huge role in your SEO for online marketing. Therefore, we have created a list of 20 best domain name generators for finding a perfect domain for your business.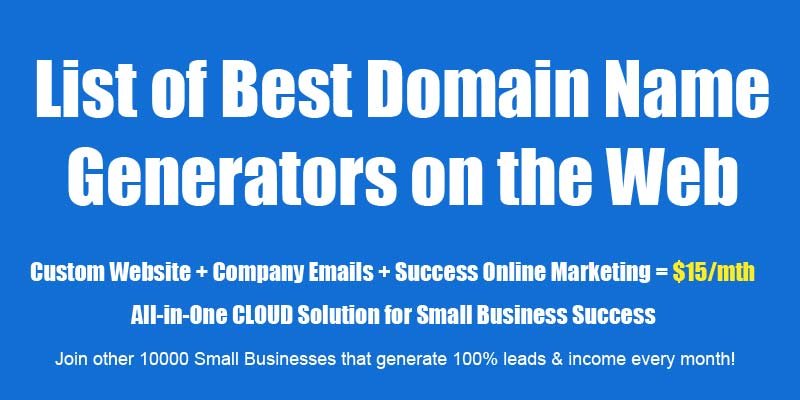 Let's find out the 20 best Domain name generators on the web and their features
Nameboy is among the oldest and most popular domain name generators on the web. It helps you find the right domain name for your business. All you have to do it enter one or two keywords and you get hundreds of domain name suggestions instantly.
It has a highly versatile and powerful tool that generates instant domain name suggestions based on the one or two keywords that you enter. Here are some other features that it offers:
Common: You can Check the availability of common TLDs (Top Level Domains) including com, net, org.
Similar: Generates the common alternatives of your domain using synonyms, antonyms, Thesaurus references, related words and various other options.
Preserve SEO through suffixes, prefixes and derived words.
Although, a business name generator service offered by shopify that helps small businesses find that perfect name for their online business but do you know that it can also be used for generating a perfect domain name. Similar to other tools just enter a keyword in the tool and it will return hundreds of available domain name suggestions that you can book for you business.
Before you enter any one or two words to get domain name suggestions the Lean Domain Search tool looks very basic but its powerful feature has multiple sorting options that include popularity, alphabetical, name length, choosing whether your words appear at the start or end of your preferred name and, of course, you can check whether your domain name is actually available or not.
This service offers you two options; search for a domain name or choose a domain name maker. You can start with domain name maker, choose one word that's relevant to your business or brand and apply filters to set the character limit in your domain name or choose to keep your chosen word at the beginning or at the end of the domain name.
This is one service that offers various options to select a lot of different TLDs including many that are country-specific and it is great. It is highly flexible when it comes to choosing the right domain name for your business as it has various groups of words or numbers to that could be combined such as 100 popular numbers, 1500 popular last words, adjectives, nouns, 500 popular four-letter words, frequently written words and many other grouping options.
Domain puzzler doesn't limit you with just one or two keyword ideas compared to other domain name generator tools on web and that's what makes this tool stand out. Just enter your keywords, choose your domain extensions and search for a perfect domain name for your business and guess what; it will also return domain name suggestions combining your keywords into many different variations.
This tool is straightforward when it comes to generating domain name ideas. Just enter your keyword and this till will return results on all available domain name ideas based on that keyword, combined keywords, or keywords that are similar.
What do you look for in domain name generators? Well, you look for variety of domain name suggestions, different keyword combinations and various combinations with other words, letters, characters and numbers. This tool offers you with all those great features that you can use to find an ideal domain name.
This tool is a random domain name generator or you can also start with your own keyword and therefore it offers a great level of flexibility when you do not have a keyword in your mind.
It generates domain name suggestions based on different search types such as language, top level domains, rhymes, prefixes and suffixes or even modified spelling of your chosen keywords.
Like other domain name generators on the web this tools also allows you combine various keywords but it also offers extended functionality such as adding prefixes or suffixes, receive keyword suggestions and refine your search criteria to generate more specific and targeted domain names.
This is a highly diverse tool among domain name generators as it also shows you whether your ideal domain name is being used as a username on social media or not. You can simply get started by entering two keywords and Panabee will return various domain names. If the domain name that you like is already taken then you can directly go to the godaddy website and check for all other extensions available for the domain. Not just domain name suggestions, Panabee will also generate terms related to your keywords that you can search for.
Domain hole was featured on sites like PR Web and Killer Startups for its robust features such as generating domain name ideas without even entering a keyword. So, when you don't have keywords in mind still you can find a perfect domain name that are randomly generated by this tool that are creative, catchy and easy to remember.
If you are looking for a short and catchy domain name for your business or website then wordoid has a solution for you. It suggests made up words and offer tools that help you find a domain name quickly. One of the best short domain name generator tool.
Name Tumbler allows you to generate domain name ideas based on the keyword that you provide and a keyword of its own that you can select from the suggestions it gives you by picking up keywords from its database. You also have the option to place keywords in any order whether in the beginning or at the end of the domain name which makes it great a tool to start with.
It is another great tool for finding a domain name as it allows a user to explore all possible domain name ideas beyond the most common extensions such as com, net and org. The unique thing about Domainr is that it tracks all available TLDs available for registration at over 200 accredited domain name registrars which makes it easy for the users to discover new and interesting domain name ideas for their websites or blogs.
Using Impossibility for finding a perfect domain name is more of a fun rather than a boring time consuming task. It starts by entering your keyword and then the tool allows you to add nouns, verbs, or adjectives to the beginning or end of your keyword. It also allows you to choose between four-letter, five-letter, six-letter words, and even the option to just simply mix anything together with your keyword to get domain name suggestions that you are looking for.
It is a pretty quick and straightforward tool for find a perfect domain name for your website or blog. Simply enter the keywords and it will return various domain name ideas based on the keywords that you have entered and also show you whether or not your domain name is available for registration.
If you want a secure and encrypted environment to search for perfect domain name then domize is the tool to go for. It will help in checking whether a domain name has been previously registered, due to expire or if available for purchase and also provides you instant suggestions as soon as you start typing keywords in the search box.
If you are specially looking for a domain name with certain criterions such as age, page rank, backlinks and social media account availability then Bultopia is the tool you need.
Other Popular domain name generators are:
Domain Wheel

I Want My Name

Suggest A Name

Naque

Brainstorm Domains
The above list contains some of the best domain name generators on the web today that can help you find a perfect domain name within minutes.
Some of the tools are also random domain name generators that you can use to generate catchy domain names.
A perfect domain name is the one that reflects your brand, includes keyword related to your business, short and easy to remember.
Best Advertising Ideas for Small Businesses
Computer Keyboard Shortcut Keys
Pdf editing with comments online
Low Cost Business Ideas that you can start with Today
Free Marketing Tools for Home Business Owners
Note: Generate 100% income every month like other 10000 Small Businesses with the world's leading online presence solution by ADVANTON. Get a Free Business Website, Free Company Emails and Free success marketing for 365 days. Get started Free!