Are you starting a HVAC company and do not know how to grow your business? Most of the contractors do not know how to market and grow HVAC business and in this post you will find all the details about how to get hvac customers, how to get hvac leads and the best ways to advertise hvac business. Marketing for HVAC companies has always been complicated but by the end of this post you will be equipped will all the knowledge to grow your hvac business by generating quality hvac leads.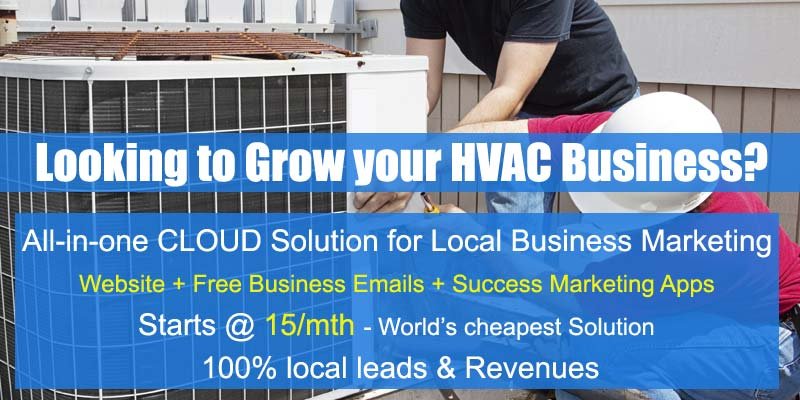 HVAC business is highly competitive and mostly small business owners struggle when it comes to generating hvac leads and business inquiries. One important thing that you need understand is that HVAC business relies on local customers. Therefore, your marketing efforts should also be focused on generating local sales leads. But the question is how to generate local hvac leads? Well, with a strong online presence for HVAC company and local inbound marketing for HVCA contractors in Florida, California, Texas, Boston and across all of US, is tightly integrated together in one platform that enables your business to grow within few weeks.
How big is the HVAC industry in the US?
HVAC industry is set to grow in the United States due to the rising demand in the energy efficient products and people are spending more to keep their HVAC systems well maintained.
Global HVAC market is expected to reach US $130.7 Billion by 2024.
Total revenue of the HVAC industry in the US in 2018 was US $$94bn and there were total 112,841 HVAC companies while a total of 512,354 people were employed in the industry.
From 2013 – 2018, Heating & Air-Conditioning Contractors in the US have grown by 3.1% which shows an uptrend in the growth and this momentum is expected to touch higher levels as the demand among consumers is growing.
Looking at the numbers we can easily say that there are huge opportunities in the HVAC business but you need a solid business plan and a marketing strategy to succeed.
How to grow HVAC Business and get commercial HVAC leads?
80% of contractors do not know how to market their HVAC company and this is where the real problem starts to build up. You do not have prospects and leads to continue the work in future and by the time you are trying various marketing tactics or paid advertising, season is over…..isn't it?
It takes smart work, sweat and a solid marketing strategy for running a business than just dreaming. In order to stay in the business for long-term you need to take steps towards towards growing your HVAC business as it is brutal and competitive. Effective marketing for hvac companies should include local business optimization techniques and sales funnel buildup through referrals and a minimum of 3 different hvac lead sources.
There are total 112,841 businesses operating in the US HVAC industry, which suggests that for new and small HVAC companies it is difficult to grow and survive in the business if they don't focus on the organic growth by reaching out to the local customers. In order to get hvac leads, local hvac customers need to find your business online or through referrals.
Any contracting business whether its Home Remodeling, Flooring, Plumbing, Duct Cleaning, Tile Repair or HVAC, relies on local customers and most of the contractors are only able to deliver services in few neighboring cities besides their own city or town. You can get hvac customers fast and keep your sales funnel full if you know the right tactics for hvac marketing that should include at least 3 hvac lead sources.
But the real challenge is to find and reach out to the local customers when you want to get hvac leads, organically.
Growing a business organically means not spending funds on paid advertising or online advertising and relying on word or mouth, customer referrals and organic search results online that appear when you search for a local business in your area.
Best Marketing Strategies to get hvac leads and hvac customers
Create a Website for HVAC Company
In today's internet age where people search for a local business every single second, not having a website means you are no where in the competition. A Website is a set of web pages that describes your business in a well structured format which readable by web browsers.
Don't worry about having a fancy looking website as customers want information that they are looking for and this is where you need to focus. Get a website that has all the information about your HVAC services, contact information, a contact form to capture leads and information about your company.
If you have customer testimonials and reviews, don't forget to add them as Google loves them and shows them in local search results and improves your chances of ranking higher when people search for HVCA companies in your town or city.
Create Local Citations and Google Business Listing for your HVAC company
Local citations are local business listings on various web directories that allow creating business profiles about your company or firm and one of the top on the list is Google Business Listing.
Google Business Listing is focused towards local businesses and it allows you to display your HVAC company information in google maps and google's local search results. You can learn how to create google business listing in few simple steps.
The second most important step is to optimize your google business listing by keeping you business information such as Business Name, Contact Details, Phone Number, Address etc. up to date. You can create a link for customers to leave a review on your HVAC company listing that helps build trust online for your business and rank higher in local results which is very important for getting hvac customers.
Create Social Media Pages for your HVAC business
Social media is a ranking signal for Google's Organic Search results and you cannot ignore social media when it comes to promoting your hvac company for generating leads and customers organically. Not only social media helps create awareness about your brand but also help you connect with others operating in the same space.
Learn how to use social media to grow business in 2019.
Think of social media as a word of mouth in 2019 for growing your hvac business. There are many different ways in which you can utilize social media platforms such as facebook, twitter and instagram to spread a word about your services:
Share your blog posts and other content such as services page from your website on Facebook and Twitter for the users.
Connect with people in your locality on facebook to spread awareness about business.
Share new posts from your industry and tips that are related to the residential hvac systems as well as commercial.
Run giveaway campaigns on Facebook to attract local users to your brands. e.g. $50 giveaway for answering a simple question about air conditioner cleaning.
Use twitter to share customer testimonials to attract prospects and hvac customers that are hesitant to do business with you.
How we help with Marketing for HVAC companies in Florida, Texas, California, Atlanta, Boston and other states of US?
Advanton provides marketing for HVAC contractors in Florida, Texas, California, Atlanta, Boston and all other states in the US by providing a strong online presence in the CLOUD which has a business website free, content, free business emails and marketing apps for just $15/mth.
Leads for Flooring Contractors
Marketing for Roofing contractors in LA
Best HVAC contractors in New Jersey
Marketing for HVAC companies has been expensive and ineffective but with Advanton you don't have to spend hundreds dollars to generate hvac leads and revenues. With as little as $15/mth your business will be online and local customers start finding your business within weeks.
Call: 205-624-7254 or fill out the form on the right to get started free and find local customers for your business.