Are you looking to buy a Forklift for your factory or warehouse? In this post you'll find complete details about the cost of a Forklift and different types of forklifts that are available on the mark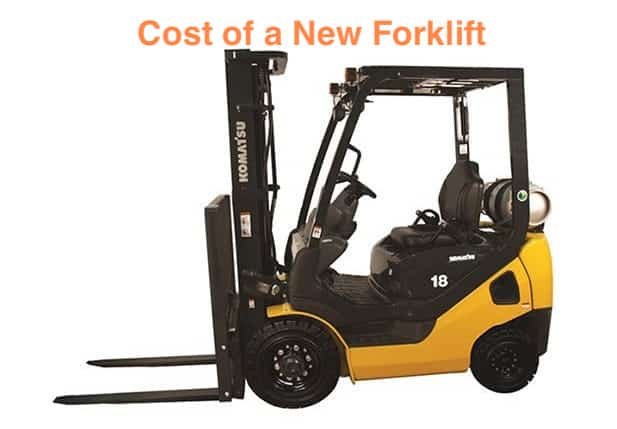 Generally, the Cost of a Forklift depends on its capacity to lift weight. The higher operating capacity you need, higher will be the cost of Forklift. A standard capacity forklift that you see mostly in warehouses should cost anywhere between $15,000 to $30,000. As a general rule, the acquisition price of an electric forklift is roughly 50% higher than a comparable Internal Combustion (IC) lift truck. A 10,000 lbs capacity forklift will cost between $30,000 and $45,000 while a 35,000 lbs capacity forklift with cost up to $100,000.
For businesses that must move heavy items, few pieces of equipment are as effective or as valuable as a forklift. Distribution depots, warehouses, lumber yards, manufacturing plants, and other work environments handle loads weighing 3,000 to 30,000+ pounds.
They commonly use forklift trucks to keep their operations running smoothly. Although lift trucks are a big investment, the amount of man hours it can save makes the purchase of one more than worthwhile. But, to make sure you don't buy more than you need it is important to understand your business' requirements and the different types of forklifts that are available.
Different Types of Forklifts
There are different types of Forklifts but there are only two major categories in which Forklifts can be divided such as:
Standard: This is a typical warehouse forklift that has a lifting capacity of 3,000 to 5,000 lbs. and it can lift weight upto a height of around 20 feet.
Telescopic forklift: It is also known as a telescopic handler or extendable reach forklift. It is a more rugged, heavy-duty version of a standard forklift with a telescopic boom. It is often used in rough terrain, and can move loads of more than 30,000 pounds up to 70 feet high. The advantage of a telescopic forklift is that its boom can be raised to move up and can also be extended out.
Reach forklift: Sometimes called a narrow aisle forklift, this type of machine is often used in warehouses and distribution centers where space is at a premium. A narrow construction means that it can't carry as much as a standard forklift, but its extendable mast can lift loads up to about 40 feet.
Straight mast forklift: This type of lift truck is also commonly used in rough terrain, but unlike the telescopic forklift, a straight mast forklift can only move loads vertically, up to 12,000 pounds to a height of 10 to 30 feet.
Forklifts by Fuel Type are as follows:
Electric: Electric forklifts use large, heavy, rechargeable lead-acid batteries that can run for 5 or 6 straight hours. They are ideal for indoor use and a popular choice because they produce zero emissions and have a relatively low cost per hour of operation.
Fuel cell: Hydrogen fuel cell forklifts are the next big thing in forklift technology, providing the zero emissions and quietness of electric forklifts with the fast refueling capability of an internal combustion machine.
Internal combustion: These types of forklifts can run on a number of different fuels, including gasoline, diesel, liquid propane, and compressed natural gas (CNG). Compared to electric forklifts, internal combustion forklifts are easier to refuel, can carry heavier loads, and accelerate better, although they tend to be more expensive to operate.
Types of Forklifts (Forklift Classifications I-VII)
| | | | |
| --- | --- | --- | --- |
| CLASS | Description | Ideal Uses | Benefits |
| CLASS I | Electric Motor Rider Trucks | Loading/unloading tractor-trailer; handling pallets | Electric means no emissions, minimal noise |
| CLASS II | Electric Motor Narrow Aisle Trucks | Operating in tight spaces, handling pallets, picking/storing inventory | Can be used to gain more storage space in same warehouse footprint |
| CLASS III | Electric Motor Hand Trucks or Hand/Rider Trucks | Unloading deliveries from tractor-trailers; short runs in smaller | Rider and walk-behind ("walkie") options |
| CLASS IV | Internal Combustion Engine Trucks (Solid/Cushion Tires) | Moving pallets from the loading dock to storage, vice versa | Cushion tires great for low-clearance situations |
| CLASS V | Internal Combustion Engine Trucks (Pneumatic Tires) | Versatile; trucks in this class can handle single pallets to loaded 40-foot containers | Mostly for outdoor use, but also indoors in large warehouses |
| CLASS VI | Electric and Internal Combustion Engine Tractors | Commonly used for hauling of pulling loads rather than lifting; versatile | Example: airport "tugger" towing luggage carts |
| CLASS VII | Rough Terrain Forklift Trucks | Great for lumberyards/construction sites where crews need to lift building materials to high elevations | Some are equipped with telescoping mast to provider far greater reach |
Average Cost of a Forklift with Examples
The cost of a Forklift vary significantly as per the location, your dealer, attachments you opt for and working capacity. The prices given may vary in your area but these will give you a basic idea of how much a forklift costs.
| | | |
| --- | --- | --- |
| Forklift Brand | Forklift Model | Forklift Prices |
| JUNGHEINRICH | ETR345A | 31,500 |
| Caterpillar | GP30N5-LE | $24,863 |
| DOOSAN | B16R-5 | $17,837.90 |
| MOTREC | MC480-48V | $11,995 |
| CAT | GP25 | $31,121 |
| CAT | DP45N1 | $54,197 |
| Kalmar Diesel Forklif | | $349,000 |
| LEVORIK | CPCD30 | $8,000 |
| ZOOMLION | FD50 | $8,500 |
A brand new, standard capacity electric forklift will cost approximately $15,000 to $25,000 or more in addition to around $2,500 to $5,000 for a battery and charger.
A comparable internal combustion forklift costs around $15,000-$30,000 and up.
A high-end forklift with an operating capacity of 35,000+ pounds could cost $100,000+.
A 10,000 lbs capacity internal combustion forklift will cost anywhere between $25,000 to $50,000 or more.
A used 5,000 lbs internal combustion forklift will cost $10,000 to $15,000 or more, depending on the condition.
One dealer based in Dallas, TX, priced an internal combustion forklift with a 5,000 lb. capacity and pneumatic tires for $22,000. However, the same vehicle with air-cushion tires in Birmingham, AL is is available for $19,500. A comparable electric forklift with battery and charger costs approximately $25,000 in Dallas, TX.
A used, 3,000 lb. electric forklift is available for $7,500 in Newark, NJ.
Operating costs per year, based on a 250 day work year and two shifts per day, is around $1,500-$2,000 for an electric forklift, $12-$15,000 for a diesel forklift, and $10-$12,500 per year for a forklift running on liquefied petroleum gas.
Forklift maintenance costs (based on around 2,500 operating hours per year) might work out to around $500 per year for an electric truck, and $1,500 per year for an internal combustion forklift.
How to Buy a Used Forklift
Factors that Affect the Cost of a Forklift
Capacity – Forklift prices depend on operating capacity and increase as you go for higher weight lifting capacity forklift. It is important that you buy a forklift of a capacity that you actually require at your warehouse or factory.
Operating Costs & Maintenance – Typically, the operating costs for an electric forklift are 85-95 percent less than a diesel or LP forklift. Where an LP forklift might cost $6000 per year, a comparable electric forklift will only cost $600 to $900 per year. You should keeping in mind the running and maintenance costs when planning to buy a forklift.
Attachments and Accessories – Remember that all lifting equipment such as cranes, boom lift, skid steer, loader, excavators and forklifts have a base price but attachments and accessories adds upto to the cost. Sometimes, the type of attachment you opt for may cost $500 – $5000. So, keep those costs in mind as well when purchasing a forklift.
The above post is intended give you a basic idea about the cost of a Forklift but actual prices of Forklifts may vary based on your location, operating capacity, dealer, company and attachments you opt for. When buying a forklift it important to consider running & maintenance costs.
References
https://www.toyotaforklift.com/resource-library/material-handling-solutions/products/forklift-types-and-classes
https://www.osha.gov/SLTC/etools/pit/forklift/types/classes.html
https://www.tmhnc.com/blog/forklift-price-how-much-does-it-cost-to-buy-a-toyota-lift-truck
Other useful Resources for Contractors, Companies, Individuals and Entrepreneurs to find the best equipment at great prices.
Shot Blasting Machine Manufacturer
Air Conditioner Installation Cost
What is Product Line Pricing Strategy?
Sunbelt Rentals, Equipment Rentals company U.S.
Asphalt Driveway Cost vs Concrete Driveway Cost
Sales leads for flooring contractors
Cost Comparison Resurfacing vs Revamping driveway
Leads for contractors in Boston
Leads for contractors in Los Angeles
Home Improvement Cost Los Angeles
Tips for Painting leads generation
Note: If you are a General Contractor, Heavy Equipment Manufacturer or an Equipment Rental company then join Advanton and advertise your Contracting Business or Equipment Manufacturing company to thousands of Residents across U.S. and generate Leads. Build a Great online presence with a free small business website & business emails.