Jay-Z is highly successful American Rapper, Entrepreneur and a Businessman. His original name was Shawn Corey Carter and he's professionally known as Jay-Z. Born in New York on December 4, 1969, Jay-Z is an American rapper, songwriter, record producer, record company executive, and businessman. Jay-Z began his musical career with the record label Roc-A-Fella Records in 1995 that he founded, and released his debut studio album 'Reasonable Doubt' in the year 1996. The album was released to widespread critical success, and helped Jay-Z make a strong standing in the music industry. From there on, he went on to release twelve additional albums, which have all attained generally positive critical reception and commercial success, including 'The Blueprint' (2001) and 'The Black Album' (2003). Jay-Z has also released the full-length collaborative albums 'Watch the Throne' (2011) and 'Everything Is Love' (2018) with Kanye West and wife Beyoncé, respectively. In this post you will find most inspirational and famous jay-z quotes and everything about him.
Jay-Z and his wife Beyonce have a combined net worth of over $1 billion. And Jay-Z's net worth is estimated to be US $930 million alone!
With a rhyme career going since the late Eighties, Jay-Z's songs have been reflective, pop, confessional, hard-edged and indelible. Here are Jay-Z's 50 best songs ever.
This Is How Jay-Z Became The First Billionaire Rapper
Below is a collection of the best motivational Jay-Z quotes on business, success and life:
1. "Difficult takes a day, impossible takes a week."
2. "Either love me, or leave me alone."
3. "It's a brand new world. Let me show you."
4. "Be more concerned with your character than your reputation. Because your character is what you really are, while your reputation is merely what others think you are."
5. "If ya'll can't already see, I ain't worried about ya'll, 'cause I'm already me."
6. "I'd rather die enormous than live dormant."
7. "I believe excellence is being able to perform at a high level over and over."
8. "If it's you and me against the world, then so be it."
9. "We change people through conversation, not through censorship."
10. "I'm like a dog, I never speak, but I understand."
11th Jay-Z Quotes
"I was forced to be an artist and a CEO from the beginning, so I was forced to be like a businessman because when I was trying to get a record deal, it was so hard to get a record deal on my own that it was either give up or create my own company."
12. "They talk. We live. Who cares what they say?"
13. "Identity is a prison you can never escape, but the way to redeem your past is not to run from it, but to try to understand it, and use it as a foundation to grow."
14. "Those who are successful overcome their fears and take action. Those who aren't submit to their fears and live with regrets."
15. "I'm a hustler baby; I sell water to a well."
16. "If people don't hate you, you're probably not doing very big things."
17. "I believe everybody in the world is born with genius-level talent. Apply yourself to whatever you're genius at and you can do anything in the world."
18. "Hip-hop has done so much for racial relations, and I don't think it's given the proper credit. It has changed America immensely. I'm going to make a very bold statement: Hip-hop has done more than any leader, politician, or anyone to improve race relations."
19. "When you're growing up, your dad is your superhero. Once you've let yourself fall that in love with someone, once you put him on such a high pedestal and he lets you down, you never want to experience that pain again."
20. "I have inherited two of the most important brands in hip-hop, Def Jam and Roc-A-Fella. Reid and Universal Music Group have given me the opportunity to manage the companies I have contributed to my whole career. I feel this is a giant step for me and the entire artist community."
21. "The average rap life is two or three albums. You're lucky to get to your second album in rap!"
22. "By the time I got to record my first album, I was 26, I didn't need pen or paper – my memory had been trained just to listen to a song, think of the words, and lay them to tape."
Jay-Z – Inspirational Message
https://youtu.be/71ZqtqBcBGk
23. "I went through hell, I'm expecting heaven."
24. "Leave a mark they can't erase, neither space nor time."
25. "Photoshoot fresh looking like wealth, I'm about to call the paparazzi on myself."
26. "Belief in oneself and knowing who you are, I mean, that's the foundation for everything great."
27. "I sell ice in winter, I sell fire in hell."
28. "People respect success. They respect big. They don't even have to like your music. If you're big enough, people are drawn to you."
29. "All I got is dreams. Nobody else believes. Nobody else can see. Nobody else but me."
30. "Everyone who makes music is a good collaborator at their foundation because in order to make music, you have to connect to it in a way that other people can't."
31. "Do me a favor. Don't do me no favors. I handle mine."
32. "You can want success all you want. But to get it, you can't falter. You can't slip, you can't sleep, one eye open, for real, and forever."
33. "I'm a mirror. If you're cool with me, I'm cool with you, and the exchange starts. What you see is what you reflect. If you don't like what you see, then you've done something. If I'm standoffish, that's because you are."
34."I'm hungry for knowledge. The whole thing is to learn every day, to get brighter and brighter. That's what this world is about. You look at someone like Gandhi, and he glowed. Martin Luther King glowed. Muhammad Ali glows. I think that's from being bright all the time, and trying to be brighter."
35. "As kids we didn't complain about being poor; we talked about how rich we were going to be and made moves to get the lifestyle we aspired to by any means we could. And as soon as we had a little money, we were eager to show it."
36. "That's why this generation is the least racist generation ever. You see it all the time. Go to any club. People are intermingling, hanging out, having fun, enjoying the same music. Hip-hop is not just in the Bronx anymore. It's worldwide. Everywhere you go, people are listening to hip-hop and partying together. Hip-hop has done that."
37. "Don't tell me what was said about me… Tell me why they were so comfortable to say it to you."
38. "Everything evens up, you just wait. Even a garage can gets a steak. You are not even a garbage can, you have faith!"
39. "You can pay for school but you can't buy class."
40. "You learn more in failure than you ever do in success."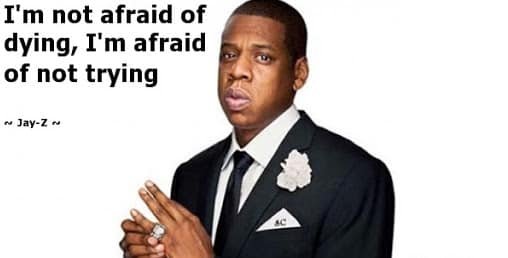 41. "We hustle out of a sense of hopelessness. Sort of a desperation. Through that desperation, we become addicted. But we feel we have nothing to list. So we offer you, well, we offer our lives. What do you bring to the table?"
42. "I'm not afraid of dying. I'm afraid of not trying."
43. "I will not lose, for even in defeat, there's a valuable lesson learned, so it evens up for me."
44. "A wise man told me don't argue with fools. Because people from a distance can't tell who is who."
45. "You make your first album, you make some money, and you feel like you still have to show face, like 'I still go to the projects.' I'm like, why? Your job is to inspire people from your neighborhood to get out. You grew up there. What makes you think it's so cool?"
46th Jay-Z Quotes
"I'm not a businessman. I'm a business, man."
47. "I collect art, and I drink wine… things that I like that I had never been exposed to. But I never said, 'I'm going to buy art to impress this crowd.' That's just ridiculous to me. I don't live my life like that, because how could you be happy with yourself?"
48. "I would run into the corner store, the bodega, and just grab a paper bag or buy juice – anything just to get a paper bag. And I'd write the words on the paper bag and stuff these ideas in my pocket until I got back. Then I would transfer them into the notebook."
49. "I'm far from being god, but I work god damn hard."
50. "I think relationships are broken up because of the media."
51. "Successful people have a bigger fear of failure than people who've never done anything because if you haven't been successful, then you don't know how it feels to lose it all."
52. "One of the reasons inequality gets so deep in this country is that everyone wants to be rich. That's the American ideal. Poor people don't like talking about poverty because even though they might live in the projects surrounded by other poor people and have, like, ten dollars in the bank, they don't like to think of themselves as poor."
53."I've never looked at myself and said that I need to be a certain way to be around a certain sort of people. I've always wanted to stay true to myself, and I've managed to do that. People have to accept that."
Jay-Z – Rapper BIO
54. "Rap for me is like making movies, telling stories, and getting the emotions of the songs through in just as deep a way. And I grew up in rap and movies the same way."
55. "Racism is taught in the home. We agree on that? Well, it's very hard to teach racism to a teenager who's listening to rap music and who idolizes, say, Snoop Dogg. It's hard to say, 'That guy is less than you.' The kid is like, 'I like that guy, he's cool. How is he less than me?"
56. "Growing up, politics never trickled down to the areas we come from. But people from Obama's camp, and Obama himself, reached out to me and asked for my help on the campaign. We've sat and had dinner, and we've spoken on the phone. He's a very sharp guy. Very charming. Very cool."
57th Jay-Z Quotes
"Jealousy is a weak emotion."
58. "They say a midget standing on a giant's shoulders can see much further than the giant. So I got the whole rap world on my shoulders, they trying to see further than I am."
59. "I grew up in Marcy Projects in Brooklyn, and my mom and pop had an extensive record collection, so Michael Jackson and Stevie Wonder and all of those sounds and souls of Motown filled the house."
60. "Hip-hop is more about attaining wealth. People respect success. They respect big. They don't even have to like your music. If you're big enough, people are drawn to you."
61. "My brands are an extension of me. They're close to me. It's not like running GM, where there's no emotional attachment."
62. "The burden of poverty isn't just that you don't always have the things you need, it's the feeling of being embarrassed every day of your life, and you'd do anything to lift that burden."
63. "When the TV version of Annie came on, I was drawn to it. It was the struggle of this poor kid in this environment and how her life changed. It immediately resonated."
64. "My thing is related to who I am as a person. The clothes are an extension of me. The music is an extension of me. All my businesses are part of the culture, so I have to stay true to whatever I'm feeling at the time, whatever direction I'm heading in. And hopefully, everyone follows."
65. "Wherever I go, I bring the culture with me, so that they can understand that it's attainable. I didn't do it any other way than through hip-hop."
66. "It's hilarious a lot of times. You have a conversation with someone, and he's like, 'You speak so well!' I'm like, 'What do you mean? Do you understand that's an insult?"
Who is Jay-Z?
Jay-Z is an American rapper, songwriter and producer who grew up in Brooklyn's drug-infested Marcy Projects. He used rap as an escape, appearing for the first time on Yo! MTV Raps in 1989. After selling millions of records with his Roc-a-Fella label, Jay-Z created his own clothing line and founded an entertainment company. He wed popular singer and actress Beyoncé in 2008.
What is the Net Worth of Jay-Z?
With a net worth of $1 billion, he is one of the wealthiest musicians in the world. The rapper has earned millions from sellout tours and chart-topping albums over the course of his nearly 30-year career.
But music is not the only money making venture that he has, Jay-Z is also a successful entrepreneur who has several entertainment labels, a clothing line, alcohol brands and music streaming service Tidal under his belt.
How Old is Jay-Z?
Jay-Z was bornDecember 4, 1969 and his current age is 50 years. His zodiac sign is Sagittarius.
Who is the Wife of Rapper Jay Z?
Beyonce is the Wife of Jay-Z. She's also a highly successful American singer, songwriter, record producer, dancer and actress. Born and raised in Houston, Texas, Beyoncé performed in various singing and dancing competitions as a child. Beyonce and Jay-Z got married in 2008.
Where does Jay-Z live?
Jay Z and Beyonce purchased a 30,000-square-foot mansion in Los Angeles' Bel Air neighborhood for $88 million. According to the Los Angeles Times, the couple had a mortgage of $52.8-million mortgage for Bel-Air mansion.
How to cope with Anxiety during Coronavirus
Cost of opening TopGolf Franchise
Inspirational Walt Disney Quotes
Disney Plus streaming Service for Disney Fans
Catchy Trucking Business name ideas
Low cost business ideas in 2020
Mind-Blowing Albert Einstein Quotes
Famous Quotes by Entrepreneurs