Communication plays an important role in the success of any business whether its communicating with your employees, customers or third-party vendors. Cell phone have become an integral part of business communication but often small businesses worry about rising costs of mobile bills and therefore in this post you will find the best business cell phone plans from AT&T, Verizon, Sprint and various other popular mobile network providers.
Business cell phone plans are offered by mobile net work operators to help small businesses have multiple lines for their employees at a reduced cost with extra benefits & features. Businesses are often eligible for discounts when they add more numbers or opt for additional monthly features under a particular business cell phone plan.
Which mobile network carrier has the best business cell phone plans?
Cost depends on your needs and how many lines you need for your business. If you have high data consumption each month then the costs may go up significantly.
Talking specifically in terms of cost, Sprint has some of the best cheap business phone plans for smartphones. However, Verizon has the best data coverage, meaning you can use your smartphone to access emails and business documents almost anywhere.
What is the average cost of business cell phone plan?
There are several cell phone plans from various companies that fall in the same range of $30 – $50 per month for 5GB of data for a single line but the cheapest business cell phone plans are usually in the range of $20 – $30 per month, while a business cell phone plan with unlimited data, text and talk could cost an average $60 for a single line.
Why you should Switch to a Business Cell Phone Plan instead of a regular wireless plan?
If your business involves field work where you have have employees & workers working at various locations on a regular basis then you need to rely on cell phones to stay connected with them. Your employees may have different purposes of using cell phones such as calling, texting, checking email, using GPS, and accessing the internet for work but the mostly they need cell phones for communication with you, customers and colleagues. Therefore, switching from a traditional wireless phone plan to a business cell phone plan becomes important to avoid unnecessary data expenses and take advantage of the benefits of Business Cell Phone plans offered by various companies such as AT&T, Verizon and others.
A business cell phone plan is like an extension to your basic cell phone plan with lots of features and data benefits to bring your employees or staff members in a single plan at reduced costs. Business cell phone plans are offered by mobile network carriers and are suitable for businesses that have employees mostly working at different locations or involved in field work. Business cell phone plans comparison is the best way to choose the right plan for your company and save costs in the long run.
How to identify which Business Cell Phone Plan is right for you?
In order to identify the best business cell phone plan for your company you need to look at your needs and also take into consideration several other factors such as cost, features, and overall benefits to pick the best plan for small business.
The first factor that you should take into consideration when choosing a business cell phone plan must be the cell phone usage by your employees each month. It will help you in identifying the total number of hours for which you have been billed for in the previous months. You can easily do this by thoroughly going through your previous itemized bills.
The second factor is how much data is consumed each month by your employees. Mobile carriers charge users for the data and if your employees need instant access to their emails, CRM or other apps then you should opt for a business cell phone plan that offers monthly data packs as a bundle and can be shared between all the mobile numbers assigned the employees.
The third important factor to consider is your workers' location and what type of work your employees perform each day. If you are a service based company such as an electronics repair business then choosing a mobile carrier that has a solid network coverage even in the remotest parts of a state or a town would be wiser.
When it comes to choosing a plan it is always best to go for business cell phone plans comparison.
Video Tutorial for Choosing Best Cell Phone Plans in 2019
List of the Best Business Cell Phone Plans in 2019
AT&T Business Wireless
According to Global Wireless Solutions network testing and analysis of millions of data points across US, AT&T has the best network.
AT&T offers both shared and unlimited data plans. The Mobile Share Flex starts at $30 per line, but you may want to want to look at the Business Unlimited plans for unlimited data. Prices for Business Share Plus plans range from $50 to $120 per line for upto 20GB data which you can say is also same with other carriers.
Single Line monthly plans start at $50/mth for 3GB data and $80/mth for 2 lines that goes upto $615/mth for 120GB data and $630/mth for 2 lines.
120GB data – $30/mth
120Gb data – $50/mth
Note: Prices after $10/mth discount when enrolled in AutoPay. Discount starts in 1 to 2 bill cycles after enrollment. For full list of plans, features and t&c that applies to each plan please refer to the AT&T website.
Does AT&T offer good cell phone plans for small businesses?
AT&T Reviews – "Called this afternoon to speak with the Chattanooga AT&T customer support this afternoon in regards to my account. I spoke with a manager named Perry Shaw and he was absolutely terrible. He rude off the bat and refused to help me in anyway."
Verizon Wireless business plans
According to J.D. Power, Verizon has the highest wireless network quality in the US.
Verizon has both shared plan as well as a unlimited plans for teams. Their beyond Unlimited Shared data plan has starting price of $50 per month for 4+ lines. The Business Unlimited plan is also very competitive in terms of the number of lines, but it costs $40 per line.
Go Unlimited Wireless Plan from Verizon
Get a steady, reliable service with unlimited texting, talk and data.
$40 per line with 4+ lines, plus taxes and fees when you enroll in AutoPay.
Unlimited 4G LTE Data
DVD-Quality Streaming (480p)
Unlimited Mobile Hotspot (600 Kbps)
Mexico & Canada Talk, Text & Data
Beyond Unlimited Plan from Verizon
Work anywhere with unlimited mobile hotspots and high definition video streaming.
$50 per line with 4+ lines, plus taxes and fees when you enroll in AutoPay.
Premium Unlimited 4G LTE Data (22 GB)
Unlimited Talk & Text
HD-Quality Streaming (720p)
Unlimited Mobile Hotspot (15 GB at 4G LTE)
Mexico & Canada Talk, Text & Data
Above Unlimited Data Plan from Verizon
$60 per line with 4+ lines, plus taxes and fees when you enroll in AutoPay.
Premium Unlimited 4G LTE Data (75 GB)
Unlimited Talk & Text
HD-Quality Streaming (720p)
Unlimited Mobile Hotspot (20 GB at 4G LTE)
Mexico & Canada Talk, Text & Data
5 Travel Passes Per Month For Use in More Than 130 Countries
Exclusive 500 GB Of Verizon Cloud
For full list of plans, features and T&C that apply to each plan, please refer to the Verizon Website.
Are Verizon business plans good enough?
Verizon Reviews – "Size alone doesn't make Verizon one of the best cell phone providers. Verizon provides a reliable network that offers widespread coverage and an ultra fast speed. They also provide a fantastic tiered payment plans that covers all the bases, no matter the amount of data, phone calls or texts you need. But this premium level service does come at an extra cost."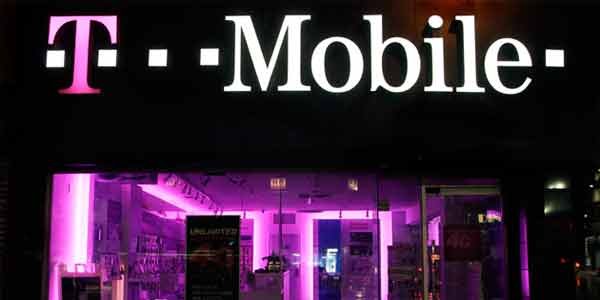 T-Mobile is the third largest mobile wireless carrier in the US with a subscriber base of 81.3 million.
T-Mobile also offers both limited data plans as well an unlimited plans ranging from $60 for a single line to $120 for 2 lines. Additional virtual numbers, or DIGITS lines, can be added for an extra $10 per month. While this pricing is higher than the competition, there are no contracts.
$60/mth for a single line while using AutoPay.
$120/mth for 2 lines while using AutoPay.
$160/mth for 4 lines while using AutoPay.
$240/mth for 8 lines while using AutoPay.
$360/mth for 12 lines while using AutoPay.
Features & Benefits of T-Mobile Magenta Phone Plans
Text, access Visual Voicemail, and more—all at 30,000 feet. Plus, stay connected with an hour of Wi-Fi.
Enjoy unlimited data and texting in 210+ countries and destinations around the world—at no extra cost.
With DIGITS®, you can access up to five numbers on one device. Or, use one number across multiple devices.
Are T-Mobile cell phone plans good for business?
T-Mobile Reviews – "We were loyal customers for years. Then my husbands job started paying for our phones so we decided to cancel service once our newest contract was up. We canceled in October 2018. Called in, paid the service in full and even paid off our phones. Jump to May 2019 when we decided to sale our home and buy a new one. Pull or credit to find an outstanding balance. We called and were told that our service ran until February 2019 and then was disconnected for non payment."
Sprint Business Cell Phone Plans
Being the fourth largest mobile network carrier in the United States with a customer base of 54 million, Sprint offers affordable business cell phone plans with features such as call forwarding, conferencing, and wireless data. Plans range from Unlimited Basic for $60/mth for a single line to Unlimited Plus for $140 for 2 lines. Sprint also offers global roaming from more than 200 worldwide destinations on all plans with capable smartphones: free text and data up to 2G speeds, with calls for only 25 cents a minute. This makes Sprint a good option for businesses that need to make international calls on their mobile phones.
Unlimited Basic Plan from Sprint
$60/mth for a single line.
$100/mth for 2 lines.
DVD quality SD video streaming (480p).
500MB LTE Mobile Hotspot.
Unlimited Talk, Text and 5GB of 4G LTE data when on roaming in Canada or Mexico.
Activate and stream Hulu as part of your Unlimited plan.
Unlimited Plus Plan from Sprint
$70/mth for a Single Line.
$120/mth for 2 lines.
HD video streaming (1080p).
50GB LTE Mobile Hotspot.
Unlimited Talk, text, 10GB of 4G LTE data when on roaming in Canada or Mexico.
HULU and Tidal included.
Unlimited Premium Plan
$80/mth for a Single Line.
Full HD video Streaming.
100GB LTE Mobile Hotspot.
Compatible with 5G phones.
Amazon Prime, Hulu, Tidal and Lookout service, included.
Unlimited Talk, text and unlimited 4G LTE data when on romaing in Mexico and Canada.
Full details about plans, features and pricing from Sprint
How good are Sprint Cell Phone plans?
Sprint Review – "Sprint has the weakest network of the Big Four cell phone providers. It places below the other three (and one budget carrier) in our evaluations, but its less expensive plans and expanding 4G network make it a contender in certain markets."
Bottom Line
All major mobile network operators in the US offer competitive unlimited shared business cell phone plans but you need to asses your business's current cell phone usage by going through your previous bills and projected future needs, before choosing any plan.
Don't go for any plan just because of its features, always take into account your usage, location and monthly data consumption. If your employees travel for work and business often then look for a plan that offers wide coverage and shared data benefits to keep your costs under control.
Bank of America for Small Business Banking
Best Payroll Software for Small Business
Note: Advanton offers world's leading online presence solution for Small Businesses with a free business website, business emails and success marketing to find local buyers.
References
https://www.businessnewsdaily.com/7927-best-business-smartphone-data-plan.html