Traveling is fun, full of adventure and new experiences especially for those who want to spend the rest of their lives traveling and exploring new places. It can be tough for an adventurer to sit behind the desk from 9 to 5 doing office work, isn't it? Imagine if you can have a job that allows you to travel as much as you want and earns you money as well at the same time. If you are a travel enthusiast then in this post you will explore the best jobs for travel lovers that make you money as well. There are hundreds of jobs for travellers but we will only list the best jobs for travel lovers.
Instead of working at a job where you don't get to travel at all or just few times in a year, why not get a job that requires travel as one of your duties? This way, you can explore the world while earning money and building your career in the travel industry. But before we dive any further into the topic 'best jobs for travellers', let's explore some interest facts about the travel industry that would blow your mind.
Global travel and tourism industry facts
The travel and tourism industry is one of the world's largest industries with a global economic contribution (direct, indirect and induced) of over 7.6 trillion U.S. dollars in 2016. The direct economic impact of the industry, including accommodation, transportation, entertainment and attractions, was approximately 2.3 trillion U.S. dollars that year. A number of countries, such as France and the United States, are consistently popular tourism destinations, but other, less well-known countries are quickly emerging in order to reap the economic benefits of the industry.
Worldwide, the tourism industry has experienced steady growth almost every year. International tourist arrivals increased from 528 million in 2005 to 1.19 billion in 2015. Figures were forecasted to exceed 1.8 billion by 2030. Each year, Europe receives the most international tourist arrivals. It also produces the most jobs for travellers: with approximately 607 million outbound tourists in 2015, the region had more than double that of the second largest tourist origin, the Asia Pacific region.
Travel and Tourism industry in the U.S. – Facts
The U.S. travel and tourism industry has contributed over US $1.6 trillion to the economy in 2017 employing 7.8 million people in the U.S. Travel and tourism exports accounted for 11 percent of all U.S. exports and nearly a third (32 percent) of all U.S. services exports. That same year, U.S. travel and tourism output represented 2.8 percent of gross domestic product. Expenditures by international visitors in the United States passed $251 billion in 2017, yielding a $77 billion trade surplus for the year.
According to Department of Commerce projections, the United States will welcome 95.5 million international visitors annually by 2023 (nearly twice the amount in 2000). The United States leads the world in international travel and tourism exports and ranks third in terms of total visitation. It also produces some of the best jobs for travellers in the world.
Best Travelers of our times that can inspire you
Gabriel Morris (Gabriel Traveler) – Author and world traveler Gabriel Morris has traveled for almost half of his life and compiled tips, tricks and hacks for budget traveling in his book named "Gabe's Guide to Budget Traveling." You can learn a lot from his youtube channel about travelling the world on a budget. https://www.youtube.com/user/gabejedmo
Rick Steves – Rick Steves is a well known travel guide, TV personality and the producer of public television show "Rick Steves Europe". Rick Steves' Europe also runs a successful small-group tour program taking 30,000 travelers to Europe annually. Widely considered America's leading authority on European travel, Rick produces a best-selling series of guidebooks and is the author of Travel as a Political Act. You can find lot of information and travel tips to plan a holiday in Europe on his youtube channel.
Mark Wiens – Mark was born in Phoenix, Arizona, in the USA in 1986. He's also a world traveler, author, blogger and a video host currently based in Thailand. He has over 5.5 million subscribers on his youtube channel and he makes thousands of dollars in annual income from youtube while traveling full time. https://www.youtube.com/channel/UCyEd6QBSgat5kkC6svyjudA
Sonny Side – He runs one of the most popular youtube channel "Best Ever Food Review Show", exploring food from around the world. He's a full time traveler that makes food shows for youtube and currently has over 5.5 million subscribers. https://www.youtube.com/channel/UCcAd5Np7fO8SeejB1FVKcYw
Drew Binsky – He's an American travel blogger and vlogger and visited over 187 counties on the planet. His videos have got over a billion views with over 1.5 million youtube subscribers.
Trevor James – He's a Canadian born food vlogger and traveller. His youtube channel "The Food Ranger" has over 3.8 million subscribers and he is famous for his street food tour videos which have been viewed over 450 million times.
Nicole Eddy – She is a young vlogger and traveller from South Africa. She over over 75,000 subscribers on her Youtube channel. She explores the world with unbelievable desire and enthusiasm, capturing her adventures on YouTube, where she shares her passion and inspires others to follow their dreams and make them true.
19 Best Jobs for Travellers
According to recently released data from the US Census, 5.2% of workers in the US worked at home in 2017 or 8 million people. That share is up from 5% in 2016, and 3.3% in 2000, which means that there's a steady rise in work from home culture among Americans.
Jobs that allow you to travel don't just include remote or work-from-home opportunities. You can also work in the industries that requires travel as part of the job duties. Sales professionals often have to travel to meet new and existing clients or to attend conferences or close sales deals around the world. If sales jobs do not interest you because of the sales targets, there are other jobs for travellers which include travel guide, travel writing, food reviewer or a foreign aid worker where you can travel from place to place working.
Get inspired and find jobs that allow you to travel while working from home or by landing positions that require travel. To help you out, we've created a list of 19 jobs for travel lovers or allow you to travel as you work, so you can lead an adventurous life while earning at the same time.
1. Field Sales Executive – among best jobs for travel lovers
This is one of the best jobs where you can travel. The role of field sales executives is a client-facing role which involves travelling round and holding meetings with clients and potential clients as the representative of a company, its products and services. You will also get your travel expenditure reimbursed by the company and draw a good salary each month. It is among the best jobs for travel enthusiasts. The average salary for a Field Sales Representative is $52,444 per year in the United States.
2. Tour Guide – among the best jobs where you can travel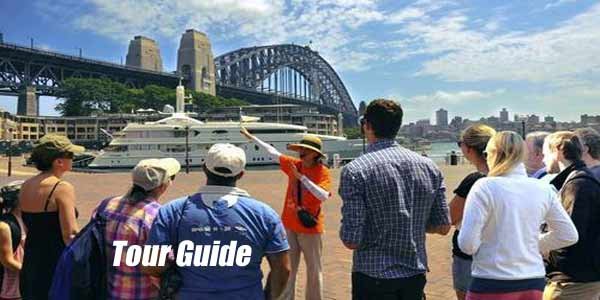 A tour guide is a person who provides assistance, information on cultural, historical and contemporary heritage to people on organized group tours or individual clients at educational establishments, religious and historical sites, museums, and at venues of other significant interest, attractions sites. As a tour guide you get to visit hundreds of local, domestic and international destinations along with the tourists whom you assist in exploring the destinations. Mostly tour guides work for travel agencies and companies but some also work as independent tour guides. The average hourly wage in the U.S for a land tour guide is $13 per hour, while the average annual salary for a tour guide is $23,000 in America. Travel and Tourism schools in the U.S. to help you become a certified travel guide.
3. Flight Attendant – among the best jobs that allow you to travel
A Flight Attendant is responsible for attending to the safety and comfort needs of passengers aboard a flight. Also referred to as a Cabin Attendant or Airline Stewardess, they perform a range of tasks including demonstrating emergency procedures, directing passengers, and performing safety checks. The average Flight Attendant salary in the United States is $75,857 as of December 26, 2019, but the range typically falls between $60,880 and $94,047. Here's a complete guide on how to become a flight attendant.
4. Travel Agent – among the best jobs for travellers
Travel agents help their clients make travel plans. In addition to booking reservations, they assist customers in choosing their destination, transportation, and lodging and inform travelers of passport and visa requirements, rates of currency exchange, and import duties. The BLS currently lists the average travel agent salary in 2017 as $40,840 with a range of $21,350 and $62,320 dividing the lower to upper 10% of travel agents.
5. Diving Instructor
More than just teaching and training soon-to-be-divers, Dive Instructors are primarily responsible for the safety of the diving party as well. They are also in charge of the maintenance of diving equipment and at some places they also have the responsibility of saving lives of the people at the beaches. As a diving instructor you get to travel a lot to various locations that are great for scuba diving and deep sea diving. It could be Spain, Maldives, Australia and many other locations. Scuba instructor in the U.S. will probably make between $35,000 and $40,000 per year, which likely includes all his income sources (source). Here's a complete guide to become a Dive instructor.
6. Ski Instructor
If you love snow and cold weather then job as a Ski Instructor can be best for you. Teaching individuals new skills and techniques to help improve their skiing ability. Helping raise confidence levels. Answering the questions of individuals taking part in lessons and individuals at the resort as a whole. A ski Instructor's salary can depend on the level of Professional Ski Instructors of America (PSIA) certification but typically they start earning out between $9 to $15 per hour.
7. Cruise Ship Worker – among the best jobs for travel enthusiasts
Working on a cruise ship can take you places that others can only dream of. Cruise ship jobs have a reputation for being one of the best jobs where you can travel. You can be working as a chef or a live saver or a marine technician on a cruise ship. You get paid to see the world and interact with people from a variety of cultural backgrounds, all while collecting a salary and receiving free room and board. Since cruise ships offer almost every service imaginable, there are job opportunities for individuals from all backgrounds.
As far as salaries are concerned as a cruise ship worker, majority of positions are based on an hourly wage and most employment opportunities on a cruise ship earn $1,200-$1,500 a month. There are though, a large number of positions that can make as much as $2,500 a month equating to $13 an hour.
8. Photographer – among best jobs for travel lovers
If you love photography, nature, wildlife and travelling different places, then photography can be one of the best jobs where you can travel. There are several well known TV channels such as, Fox Travel, National Geographic, Animal Planet and Discovery that offer great packages and compensation to the photographers. If you are looking for the best jobs for travel enthusiasts then Photography can fulfil your dream of travelling and making money. Start your journey of being a photographer at fstoppers.com.
The average salary of a photographer in the U.S. is Us $14.77.
9. Truck Driver
Truck drivers earn good especially long-haul truck drivers and the ones that own and operate a truck company with just one or two trucks. All you need to do is apply for a Commercial Driving License (CDL), apply for permits, purchase or lease a truck and get started. You can be working as a Truck driver for another company or you can attach your truck to a logistics company. The median annual wage for a trucker that works for a private fleet, such as a truck driver employed by Walmart, is $73,000, according to ATA. The Labor Department pegs the median annual salary for all truck drivers at around $40,000. There are over 1.6 million truck drivers in the U.S.
10. Football Coach
If you are fascinated by Football, one of the most loved games in the world, then being a Football coach at a school is among the best jobs where you can travel. Many countries such as U.S. offer foreign coaches a chance to teach football to the school students. You can find more opportunities about being a football coach in the U.S. at uksoccer.com. Football coach is among the best jobs for travel lovers.
11. International Sales Representative
The international sales representative responsibilities include managing the company's sales on an international level. International sales reps often travel overseas to make a sale, or sometimes are stationed there for a period of time. They also travel for attending trade conferences and exhibitions around the world to facilitate meetings with international customers and acquisition. Average International Sales Representative Salary is Us $51,557.
12. ESL Teacher – entry level job that require travel
ESL (English as a second language) teachers are in high demand both at home and abroad. When you take a job as an ESL teacher in a foreign country, you'll get to help students understand your native language while immersing yourself in that country's culture. You'll need at least a bachelor's degree, ESL training and a special license to get hired. Here's a step-by-step guide to becoming an ESL teacher.
13. Event Managers – among best jobs that allow you to travel
Event managers mostly work on local events like parties and corporate events, but managing large-scale events like conferences and trade shows could be a golden opportunity for travel lovers. You'd meet with potential vendors from across the country, then travel to the event location to oversee everything from setup to breakdown. A search for "trade show coordinator" on Indeed returns more than 1,500 jobs in a variety of cities.
14. Foreign Service Worker
If you want to combine your love of travel with your love of your country, a career as a Foreign Service officer or specialist could be right for you. The best-known Foreign Service job is a U.S. diplomat, but there are plenty of other career tracks that allow you to meet and interact with foreign governments. The U.S. Department of State has more details about these jobs listed on its website, and with more than 250 embassies around the world, there are plenty of opportunities for travel.
15. Travel writer – among traveling jobs that require no experience
It might not be the easiest way to make a living, but if you've got a knack for writing, you can share your knowledge about popular travel destinations. Though full-time travel writing positions exist, most of the work you can get is freelance, as publications typically want individuals who can submit firsthand accounts of the location they're writing about. You can search for and bid on freelance travel writing assignments on sites like Freelancer.com and Upwork. Travel writer is among the best jobs for travel lovers.
16. International Aid Worker – Job that require international travel
If you want to travel for a living while making a real difference in people's lives, consider working for an international aid organization like USAID. With this job, you can visit struggling countries and help residents recover from dire situations, such as natural disasters and famine. You'll need a background in a field such as health, agriculture or education and a strong interest in social work. International aid worker is among the jobs that require international travel.
17. Au Pair
Do you work well with children and know a second language? If so, becoming an au pair might be a good option for you. Au pairs live with a host family in a foreign country and provide child care services, such as babysitting and assistance with schoolwork. You'll receive a small salary on top of your room and board, but you also get to immerse yourself in another culture as an extended member of a family.
18. Foreign Service worker – among the highest paying travel jobs
If you want to combine your love of travel with your love of your country, a career as a Foreign Service officer or specialist could be right for you. The best-known Foreign Service job is a U.S. diplomat, but there are plenty of other career tracks that allow you to meet and interact with foreign governments. The U.S. Department of State has more details about these jobs listed on its website, and with more than 250 embassies around the world, there are plenty of opportunities for travel. Foreign service worker is among the highest paying travel jobs.
19. Food Reviewer – among the most common jobs for travel lovers
If you are passionate about food and love trying different types of foods from various parts of the world then food reviewing can be a great job for you. You can create videos of your food tasting and reviewing at different locations and post on youtube. Most of the new age vloggers are food reviewers such as 'Trevor James' and 'Sonny Side' and they make good money from Youtube while travelling full time.
Bottom Line
Travelling is fun and can be rewarding if you can find the right job that pays for travelling. We've compiled a list of best jobs for travel lovers that pay well and allows travelling. Start assessing which skills you possess and how you can turn those into a career where you can travel and earn a full time income.
If you are skilled in programming or web development then here are some of the best jobs for travel lovers like you such as: Website design, website development, web application development, mobile application development and software development. These jobs do not require you to be behind the desk from 9 to 5 but you need skills in programming, coding and tools on your laptop to write the code.
With the penetration of the internet to the remotest locations of the world, you can be working from anywhere for a client thousands of miles away while exploring and travelling different locations. Digital nomads are growing across the world and websites such as UpWork and Freelancer are allowing people to find jobs and work remotely for customers from anywhere in the world. We hope the list of best jobs for travellers will help you land your next job as a traveller.
Best Business Cell Phone Plans 2020
Inspirational Walt Disney Quotes
Famous Quotes by Entrepreneurs
Profitable Businesses in the Fashion Industry
Credit Cards that give the most cash back on gas
Best Online invoicing software for Small Business
Note: Advanton offers world's leading online presence solution for Small Businesses with a free business website, business emails and success marketing to find local buyers. Thousands of Small Businesses generate 100% leads and income every month. Join Free!