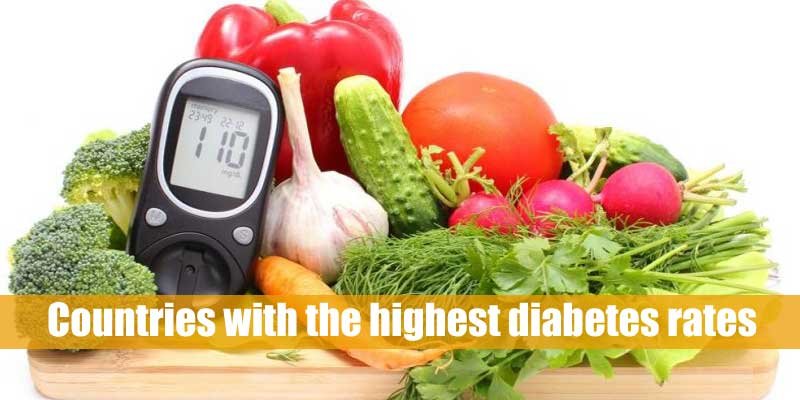 Diabetes has become one of the major health problems for the people across the globe. Type 2 diabetes is growing rapidly among people of all age groups and the major cause being unhealthy lifestyle. In this article we will have a look at the top countries with highest diabetes rates.
Diabetes also known as diabetes mellitus is a metabolic disorder that results in high levels of blood sugar over a prolonged period. Most common symptoms of diabetes include frequent urination, increased thirst and increased hunger.
Diabetes is known to be a silent killer that affects kidneys, eyes, heart and blood vessels if left untreated over a period of time. Diabetes is a non-communicable disease which means that it won't pass onto others in contact with you.
Types of Diabetes
Type 1 diabetes is caused when the pancreas are unable to produce sufficient amounts of insulin in the body to regulate the blood sugar level due to loss of beta cells.
Type 2 diabetes is caused when the body is unable to use the insulin produced properly by the pancreas which is also known as insulin resistance.
The third type of diabetes is known as Gestational Diabetes and occurs in pregnant women that have no previous history of diabetes and develop high blood sugars levels.
According to a new report from the International Diabetes Federation, an estimated 425 million people have diabetes throughout the world and 1 in 2 adults with diabetes remain undiagnosed.
The report also suggests that 12% of the global health expenditure is spent on diabetes and three quarters of the people with diabetes live in low and middle income countries.
Almost, 327 million people with diabetes are of working age group between 20-64 years, which means two-thirds of people out of 425 million total having diabetes in the world.
Another report from the Center for Disease Control and Prevention has identified that over 29 million Americans have diabetes and diabetes remains the major health problems of the 21st century.
You must be wondering how US compares to the rest of the world when it comes to the diabetics in various other countries.
US is not alone with over 29 million diabetics, developing countries such as India and China have comparable number of diabetics and in fact most of the diabetics are from these developing nations.
The IDF report also suggests that 279 million people with diabetes live in the urban areas. The most shocking fact revealed in the report is that by 2045 there will be approx. 629 million people with diabetes in the world which is a real cause of concern.
It is surprising to see that middle eastern countries such as Kuwait, Bahrain and Saudi Arabia have made it to the top 10 countries with highest diabetes rates.
Top 10 Countries with Highest Diabetes rates
10. On number 10 we have New Caledonia with 20% of the population having diabetes and is among the countries with the highest diabetes rates. Several small group of islands located in the South Pacific Ocean make up the New Caledonia. Being geographically isolated limits the country's agricultural activities and increases the dependence on processed imported foods which is the major cause of the diabetes in this nation.
9. Mauritius is on number 9 on the list with 21% of its population having diabetes. Mauritius is located in the Indian Ocean and is among the most popular tourist destinations in the world. Poor nutrition and obesity are among the major causes of diabetes in the country.
8. Bahrain is on number 8 on the list with 22% of the population living with diabetes. Bahrain has achieved the status of having a high income economy and the home to some of the world's leading financial institutions. Bahrain is currently in the midst of an epidemic in terms of obesity rates among its citizens and, subsequently, high rates of diabetes as well.
7. Kuwait is among the richest nations in the world and is a middle eastern country. Despite being ranking on top in terms of wages and living standards its population suffers from the epidemic of diabetes. International Diabetes Federation has reported that there were almost 400,000 reported cases of diabetes in Kuwait in the year 2016 giving it the 7th place on the list with 24% of its population suffering from diabetes, and in the same year about 1,142 adults died due to this chronic disease.
6. Vanuatu comprises of several small islands located in the South Pacific Ocean. It has a total population of 250,000 out of which there were 20,300 cases of diabetes among adults alone. The problem with Vanuatu is of the poor health and medical facilities and most of the locals rely on churches and other social organizations for their healthcare needs.
5. Saudi Arabia is a rich middle eastern country with plenty of natural oil resources which is the major contributor to its economy. With a population of over 28 million, Saudi Arabia ranks on number 5 with approx. 24% of its population having diabetes.
4. French Polynesia is on number 4 on the list. This country comprises of over 200 islands located in the middle of the South Pacific Ocean. Tahiti and Bora Bora which are among the world's most popular tourist destinations are in French Polynesia. Unfortunately, a vast majority of its population suffers from both high rates of obesity and chronic diabetes.
3. Kiribati makes it to the 3rd place on the list for the most number of diabetics. It is situated in the Pacific Ocean and comprises of over 30 reef islands. One of the major problems that this island nation has is the healthcare and local residents have to deal with diseases such as tuberculosis, AIDS and diabetes. One of the reasons behind Kiribati's high rate of diabetes may be the fact that over half of its population smokes.
2. Micronesia made it to the 2nd place on the list with 36% of its population suffering from diabetes. Micronesia is comprised of thousands of small islands and is situated in the Pacific Ocean with a population of over 100,000 people. Micronesians have traditionally consumed diet comprising of mainly sea food and poultry but in the recent years this nation has high levels of high calorie food commodity imports into the nation in departure from traditional diets has been correlated with higher risks for diabetes.
1. Number one on the list is Marshall Islands with 37% of its population having diabetes. It is an isolated nation located in the Pacific Ocean and it is number one among the countries with the world's highest diabetes rates. According to the WHO, the leading reason for such a high rate of diabetes is due to its residents shifting away from a diet rich in homegrown, local food towards a diet largely consisting of processed foods instead.
The above list comprises of the top 10 countries with highest diabetes rates in the world at the moment but in future there maybe some new countries on the list.
Bottom Line
A large population around the world is suffering from diabetes mainly due to an unhealthy lifestyle which lacks exercise and high calorie diet comprising of processed foods.
Diabetes is manageable and one can lead a healthy normal life if proper guidance on diet, medication and exercises are provided.
Note: Advanton helps over 10,000 small businesses in USA and world wide to generate 100% leads and income every month with a strong online presence, free website and success marketing. You too can grow your small business within weeks!
Summary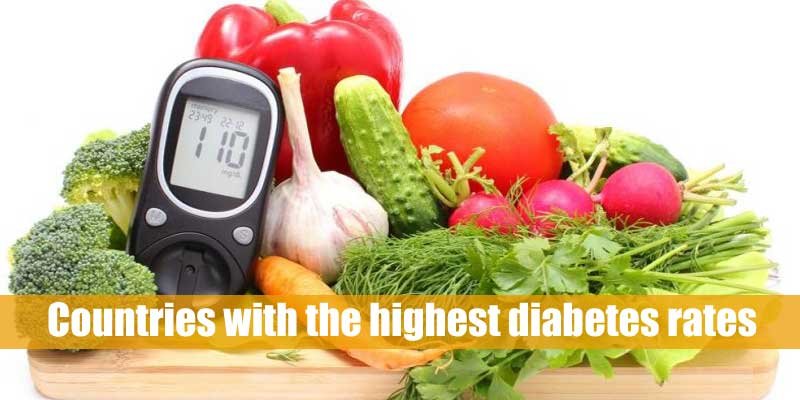 Article Name
Countries with Highest Diabetes Rates
Description
Learn which countries have the highest diabetes rates in the world and which countries are top 10 on the list.
Publisher Name
Publisher Logo