We often ignore that fact that a good web hosting service is one of the contributing factors to the success of every WordPress website. Choosing the best WordPress web hosting for your needs can be tricky and time consuming as it needs lot of research online to find a good web hosting service.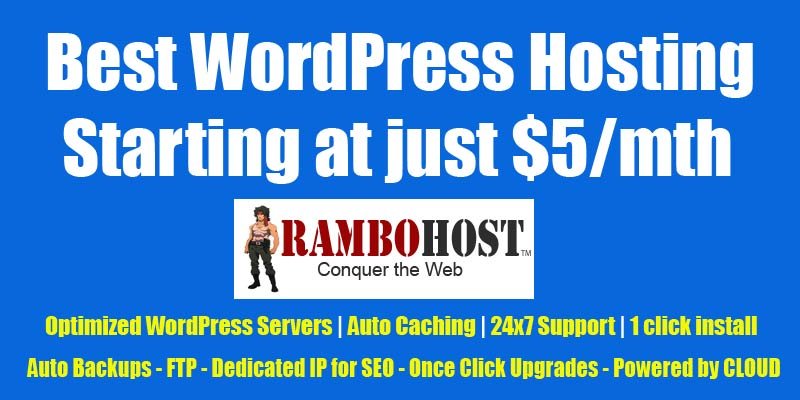 Check out the best WordPress Hosting Plans
When searching online you may come across different types of WordPress hosting options such as Shared WordPress Web Hosting, VPS hosting for WordPress, Dedicated, and managed WordPress hosting which makes it even more difficult to decide which is the best WordPress web hosting.
In this post, we will help you choose the best WordPress web hosting in 2020.
We are the world's leading CLOUD solutions and Online Presence Solutions company enabling over 10000 small businesses create a strong online presence with a business website free, company emails and success online marketing and so we understand the WordPress web hosting needs and the importance of choosing the best WordPress web hosting company in 2019 for your small business.
Our goal is to share the insights on the factors that you need to consider when choosing a WordPress hosting company for your small business.
To help you make the right decision, we have highlighted all the important aspects that you need to take into consideration when choosing the best WordPress web hosting company such as speed, uptime, reliability, and ease of use and customer support.
Let's understand the Best WordPress Web Hosting Requirements?
WordPress is completely written in PHP and runs on a MySQL database that needs a linux server for hosting, and it is compatible with almost all good web hosting companies. The simple requirements of WordPress hosting are:
PHP version 7 or greater
MySQL version 5.6 or greater
A linux hosting server
Apache or Nginx Web Server
WordPress is the world's most popular CMS (content management system) to create websites that runs 28% of all the websites in the world.
Due to its popularity the best WordPress web hosting companies offer 1 click install of the WordPress CMS on the web hosting server.
Website Speed, Server security, platform reliability and customer support are all important factors that you need to consider when choosing a WordPress web hosting company.
However, the most important factor is the pricing because as a small business owner you cannot afford anything expensive which can burn your pocket.
Evaluating your requirements thoroughly before and comparing prices of different web hosting companies can save you few extra dollars.
Rambo Host is one of the best WordPress Web hosting companies that offer a robust hosting service for WordPress websites with all the security scripts and tools pre-installed.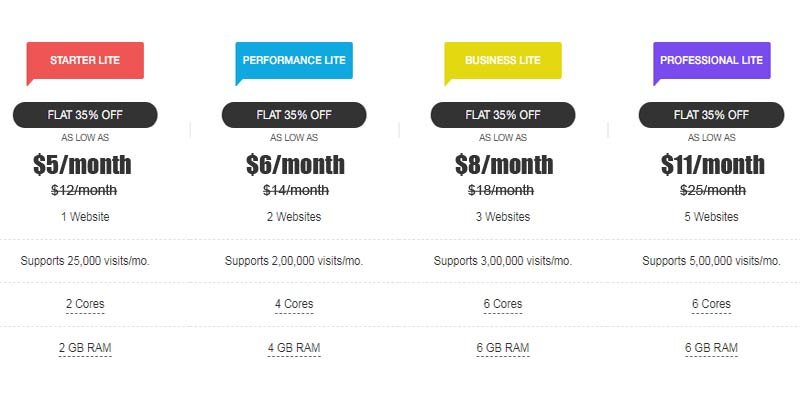 With just one click you are ready to host your WordPress Website or you can even create a new website directly from the hosting panel itself.
No more hassles of getting into cPanel or keep juggling between various control panels to host your website.
Their hosting panel gives you direct access to your new WordPress Admin dashboard and that's what makes it unique.
Evaluate Your Website Hosting Requirements
As you know that there are different types of web hosting services for WordPress such as Shared WordPress hosting, VPS hosting for WordPress, Dedicated, and Managed WordPress Hosting and each one of them is different in performance from the other.
Let's dig deeper into these web hosting services to find out the best WordPress Hosting service for your needs:
Shared WordPress Hosting
Shared WordPress Hosting on a linux server is among the most popular and widely WordPress hosting in the World.
It is also the most affordable and pocket friendly option to host your WordPress Website.
Shared WordPress hosting is where you share a large server with a lot of other websites that could be few hundred in number.
Shared hosting allows web hosting companies to host multiple sites on the same server sharing the same IP and server resources that subsequently brings down the hosting costs for the customer and server management costs for the hosting companies.
Mostly, all the shared WordPress Hosting companies say that the bandwidth and storage are unlimited but you must check before purchasing a plan to host your WordPress Website.
As your website users grow the load on the server grows subsequently and you may have to upgrade your hosting plan so always check for the bandwidth, number of visitors supported each month and the storage.
The best WordPress Web Hosting service by Rambo Host clearly mentions how many user visits are supported each month to a website, bandwidth and storage under each plan.
Shared web hosting for WordPress is the best solution for small businesses and new bloggers.
VPS Hosting for WordPress
A Virtual Private Server (VPS) is a slice of a dedicated server and it is much more powerful that shared WordPress hosting because of the complete isolation of the virtual machine and its resources.
You get complete root access, can install your own scripts and software and you are not restricted in any way by the hosting company in using the full resources of this virtual machine.
Hosting your website on a VPS server completely isolates it from other websites on the same server which gives it a distinct advantage when it comes to speed, load-times and SEO.
But before you make a decision to upgrade to a VPS server you need to understand that you have to configure the server yourself with all the software, script and WordPress installations to make work.
However, you can also go for the managed VPS hosting for WordPress in which the WordPress hosting provider manages all system upgrades, and they are available to assist you if needed.
The best WordPress Web Hosting Companies offer managed VPS hosting for WordPress that gives you complete piece of mind while scaling your website.
VPS hosting is best suited to the medium-sized businesses, growing blogs, and professional business websites.
Dedicated WordPress Hosting
As the name suggests a Dedicated server is a physical server that is dedicated to your website completely and you can use full resources.
This offers full control over the server including, high performance and fully dedicated hardware resources to run host your WordPress Website.
A dedicated server often comes with a dedicated IP for your website and costs few hundred dollars each month in hosting charges.
A dedicated WordPress Hosting should only be considered once your website starts receiving significant amount of traffic each month.
Some of the best WordPress Web hosting companies offer managed WordPress Hosting but as mentioned above costs are often high.
Configuring a dedicated server leased out from a dedicated WordPress Hosting provider can be difficult if you have not worked with server earlier.
In that case you should consider managed dedicated server hosting as the hosting company will take care of all the software and script installations and updates periodically, for you.
Dedicated WordPress Hosting is best suited for high-traffic blogs and websites.
Managed WordPress Hosting
Due to the growing popularity of WordPress several web hosting companies offer managed WordPress Hosting which means that you cannot host any other type of websites with them expect WordPress.
These types of Web Hosts are considered to provide the best WordPress hosting as everything is optimized to host a WordPress Website from the server resources to the hardware to the caching scripts installed on the server.
Managed WordPress Hosting takes the pain out of hosting a WordPress Website compared to a dedicated or a VPS hosting.
Their proprietary caching scripts make sure that your site is optimized for speed and load-times which is a ranking factor nowadays as per Google.
Apart from the site speed and load times the managed WordPress Hosting Providers also ensure high level of security for your website from hackers.
Above all, managed WordPress hosting is hassle free, fast and reliable with top-notch support from staff with lots of WordPress experience.
The best WordPress Hosting experience that you can imagine is with the Managed WordPress Hosting Service companies.
While the best WordPress Web Hosting is the Managed WordPress Hosting it is often priced higher than shared WordPress hosting and VPS hosting.
Considering that you are a Small Business a Managed WordPress Hosting is not an option for you if you are just starting up.
Rambo Host Offers several best WordPress Hosting Plans that are especially created for the Small Business Owners, blogs and websites starting at just $5/month.
Now that you know a lot about the best WordPress hosting options, you can make a decision to choose the best WordPress Web hosting in 2019 for your Small Business.
Free Tools for Website Speed Test
Elementor Templates for WordPress
21 Best Websites to Download free WordPress Themes
23 Best Web Hosting for WordPress
12 Keyword Research tools for SEO
Free Marketing tools for home business
Note: Build a Strong Online Presence with Business Website Free and Free Success marketing for your small business. Get Started Free!
World's leading Online Presence Solution by ADVANTON!