Once you've started with your own business venture or you've turned into a freelancer working online for your customers, the final task at the end of each project or sales is going to be billing & invoicing and a great invoice software can help you receive payments on time. Invoices are electronic bills that you send to your customers and get paid. There are several free online invoicing software for small businesses that are simple to use and takes minutes to generate invoices.
According to an estimate by fundbox, total amount in unpaid invoices across all U.S. small businesses is approximately $825 billion which is equivalent to about 5 percent of the U.S. GDP.
Keeping a record of invoices is necessary for annual tax filings. It also helps you get returns on the taxes that you have paid. Having presentable and easy to understand invoices to give to your customers a clear picture about the work done or products being sold and what amount they need to pay. Simple to read invoices help you get paid faster for the work that has been completed or products that were sold
There are hundreds of online invoicing software on the market today and finding the right invoicing tool for a small business or a freelancer can be time consuming. Most of the billing software has similar features but essential parts like From Who and Whom To, the Date of the invoice and the date you expect payment, as well as any other business details that may be crucial for either the client or the service provider.
What is Invoicing Software?
Invoice software is a tool that helps you generate electronic bills for the services or products that you have sold to the customers. Online invoicing tool creates a list of services or products along with their corresponding costs and sends them to your customers which are known as invoices. Invoicing tools have ready-made templates that can be used to create invoice that are professional looking, which makes the process easier and advantageous to businesses.
The first step towards getting paid by your customers is generating and sending an invoice which is easy to read. In the earlier days payments were mostly cash-based and books were kept manually, leading to erroneous billing and delayed payables, today due to the advancement in digital technologies we enjoy the vast benefits of financial systems like electronic transfers, card payments, and online payments which speed up transactions. Invoicing tools make the payments collection process faster and simpler.
Before choosing any of the free online invoicing tools for small business to improve your billing and payments collections process, it is important to know more about invoicing tools that are available on the market.
In this post we will discuss in the detail about invoicing software such as covering the main features, key benefits, top invoice tools for small business and freelancers etc. With free online invoice tools for small business you can generate unlimited invoices and send to your customers immediately or you can schedule the delivery on particular dates.
What are the benefits of invoicing software for Small Businesses?
Besides simplifying the invoicing process and keeping records of all the invoices, free online invoice tools have the following benefits for a small business:
Collect payments faster– The right software solution can help streamline your billing and invoicing process and allow you to get and receive payments on time. By keeping your data and scheduling organized, you can have your collection on the dot and boost your profitability.
Manage Recurring billing easily– If you work for your customers on a weekly or monthly basis or make repeat sales to the existing customers, you can easy setup recurring invoices weekly or monthly and those invoices will be sent automatically by the software to the customers.
Look profession to your customers– A good billing and invoicing solution can help boost your company reputation. Most software offer support for customized logos and other design improvements to payment documents and invoices. You can put forward an organized and prompt approach to exude a professional image with your clients.
Manage collections process efficiently and save money by automatic billing tasks – You can cut costs by reducing staff in the invoicing and billing department and save time that is spent on following up and going after the late payers. Likewise, you get to increase cash flow with faster payment of invoices and enhance customer relations with shorter times in fixing and resolving errors.
Stay safe from financial frauds – A good invoicing software solution has levels of bank-grade security features to ensure that the entire billing-to-payment process is protected from hacks or prying eyes. This is comparatively more secure than preparing your invoices manually and sending them as email attachments.
Free for unlimited invoices – While some of the tools listed below limit the number of active clients you can invoice on a free plan, all let you send an unlimited number of invoices without having to upgrade to a premium plan.
Simple and intuitive to use – Building an invoice in a word processor isn't a complex task. We selected tools that made invoicing as simple as typing in a word processor and offer features to expedite the process by letting you save client information, product/service details, standard prices, and more.
Accept payments online – The most important part of invoicing is getting paid. Each of the tools below let you accept payments by credit card. Some also accept bank and wire transfers.
List of free invoicing Software for Small Business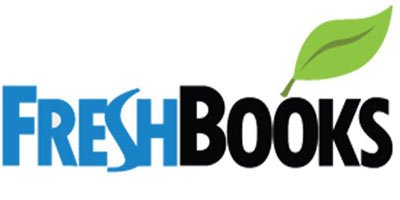 FreshBooks makes small business invoicing and billing so simple, you'll be amazed at the time you have to focus on doing what you love and how much faster you get paid.
Freshbooks is popular among small businesses for streamlining invoicing process, time tracking processes and expenses.
Freshbooks is designed for growing and small businesses, the software packs key set of features that are offered in flexible, free and paid pricing plans. In fact, freelancers who want to optimize their sales cycle and collection can easily deploy the software. This gives them the ability to customize the branding of their financial documents by modifying its design, colors, and logo to be more professional.
Features of Freshbooks invoicing software
FreshBooks is simple and intuitive, so you'll spend less time on paperwork and wow your clients with how professional your invoices look.
Automate tasks like invoicing, organizing expenses, tracking your time and following up with clients in just a few clicks.
FreshBooks lives in the cloud so you can securely access it from your desktop, phone and tablet wherever you are.
Customizing your invoice
Tracking Invoice Views
Puting Business on Auto-Pilot
Getting paid with deposits
Getting paid with credit cards
Customizing due dates
Quick discounts
Estimates
Online Payments
Late Payment Fees
Recurring Invoices & Auto Payment
Multi Currency & Multi Language
Client Portal
Late Payment Reminders
Sales Taxes
Client Credit
Track Offline Payments
Send Emails or Snail Mail
Automated Tax Circulations
Invoice Previews
You can find reviews about Freshbooks left by real people that would help you decide which software to choose.
Video tutorial explains the best options for Invoicing Software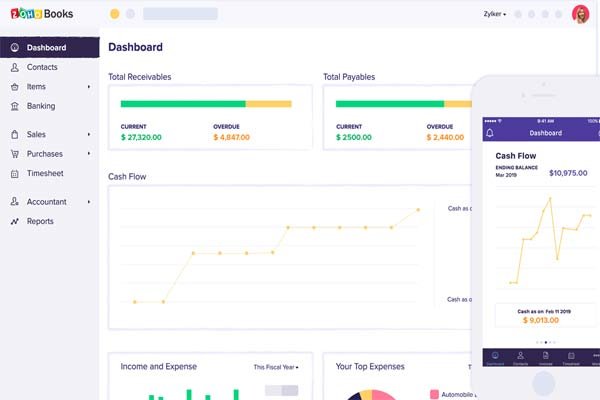 Zoho Books makes managing your invoices and receivables effortless. Send customized statements to your clients and receive payment in multiple currencies.
With Zoho Books you will always keep in line with the outstanding bills and invoices of your company, control your expenses to save money, and eliminate compliance worries.
The first and most obvious benefit from Zoho Books is the possibility for clients to pay conveniently and without abandoning your website. Now, they can purchase products and services regardless of their location, while you get rid of boring and repetitive tasks. In this case, all of your recurrent bills, payment reminders and auto charges will be automated with minimal intervention.
Key features of Zoho Books for invoicing:
Create polished invoices with the click of a button. From adding your company logo to changing fonts, customize invoice templates to reflect your brand.
Zoho Books takes the pain out of payments. From cash to check to the Web, your customers will always have an option that fits their needs.
Set up reminders for your clients so you never have to chase a customer payment again.
Grow beyond borders with multi-currency pricing. Charge customers in their currency and Zoho Books records it in your currency.
Eliminate the risk of processing incorrect transactions by validating and approving them before you send invoices out to your customers.
Record retainer invoices for advance payments and invoice your customers once the transaction is complete.
Manage refunds and returns with credit notes and apply them to your customer's future sales.
Read professional reviews about Zoho Books.
PayPal Invoicing makes it simple to send professional, customized invoices. PayPal emails your customer a link to the invoice or you can supply a link in your own email. Your customer then views invoice details and securely pays with a credit card, debit card, PayPal, or PayPal Credit. Whichever payment method the customer chooses, you generally receive your money in minutes.
PayPal invoicing features:
Create and send an invoice in minutes, from nearly any device. Choose to send your invoice via email or using a shared link. There's no need to download invoicing software.
Add your logo, contact information, and custom fields to your invoice template – you can save it for fast access whenever you do your billing.
Manage everything in one place. View your billing history online, track payments, and send reminders.
There's no setup or monthly fee for online invoicing. You only pay when you receive a payment. It's a 2.9% + $0.30 fee per transaction.*
Save invoice templates, items, taxes, and customer contact details for quick entry.
Create scheduled or recurring invoices to be delivered automatically.
Accept payments from clients in 200+ markets around the globe.
The easiest way for entrepreneurs to send professional invoices and get paid on time. Send invoices in seconds, store clients' credit cards, setup automatic payments, manage subscriptions, and more.
Features of Simple Invoices:
Create and send professional invoices in a few seconds.
Accept credit card payments and make it easy for clients to pay you. Create a free Stripe or PayPal account and connect in one click.
Pay invoices automatically, offer one-click payments, or create subscriptions for your clients with a credit card on file.
Running a subscription business? No problem! Create flexible subscriptions and automate payments directly to your bank account.
Do you know how much you're making? Is your business growing month over month? You don't need to be an accountant to find out!
Multiple currencies and languages so you can take your business international!
Stripe payment gateway designed to help you accept and manage online transactions. It gives you an end-to-end solution with features to process online payments, generate and send invoices making it ideal for e-commerce and online businesses. At its core is a robust payments engine that streamlines the movement of money in your business while connecting with applications that enable you to prevent frauds, manage revenue, and drive global business growth.
If you need to bill US businesses, use Stripe to send invoices and request payments from your customers. Customize invoices to match your company branding, add payment terms, and accept both cards or ACH payments.
With Square you can send your customers invoices easily, complete with a built-in "Pay By Card" link which is similar to PayPal invoices. You get paid and 1-2 business days later, the money is in your bank account.
You can request payment for goods or services with Square Invoices from your online Square Dashboard, from the Square Invoices app or from the Square Point of Sale app using a supported mobile device.
Features of Square Invoicing Software:
Create an invoice in seconds. Just enter your customer's email, enter the invoice amount, and hit send.
Accept card payments from your customers online or in person, or you can accept cash or checks at no charge.
Square Invoices works for one-time billing, repeat clients, and recurring payments.
Upload your logo and choose a color scheme that suits your business. Add attachments and personalized messages—all in just a few easy steps with our invoicing software.
For large invoices, request a deposit to help manage your cash flow with a partial payment up front.
Keep data safe from end to end and stay protected from fraud, chargebacks, and more.
Keep your cash flow steady. See money in your account as soon as the next business day.
Few more Small Business invoicing Software Free 2020
Invoiced
Invoiced makes it very easy for freelancers to create invoices on the go. You can add your own custom logo, specify to who the invoice is for, who it is coming from, set an unlimited number of items within your invoices. As well as leave Notes and custom Terms that you may want to have outlined within the invoice. Custom options include the ability to change currency, and add discounts. After an invoice has been built, you can either send it through e-mail, or download it directly onto your computer.
With Invoiced your customers have the option to pay using direct debit (including ACH, SEPA, Bacs, and more), credit card, or PayPal — we support them all, and we add new methods based on customer request.
Shopify
With shopify anyone selling custom products or services can create orders and accept payments online using Shopify's built-in invoicing and billing software, whether they have a Shopify online store or not. Simply log in to the admin panel, create the order and send your customer an email invoice to pay online, or take their credit card information over the phone.
Shopify's flexible invoicing tool makes it easy for your customers to do business with you. Build custom orders from items in your online store, add new line items, create wholesale orders, and apply one-time discounts and custom shipping rates. You can also use it to save draft orders and keep track of your inventory.
Features of Shopify online invoicing software:
Build custom orders easily – Tailor orders to meet your customer's needs without complicating the payment process – they can still enjoy quick and secure online checkout.
Make phone ordering a snap – Some people just prefer to order by phone. With Shopify's online invoicing and billing, you don't have to miss out on those sales.
Online Invoices
Online Invoices Software makes it easy to manage sales, create invoices, receive and keep track of payments, do your business accounting and calculate taxes, use comprehensive real-time reporting feature to accurately measure business progress. With the Online Invoices simple (and advanced) tools you can view business activity to any level, for easy follow up at any stage of any client, invoice, payment or staff.
The Online Invoices innovative system enables you to invoice clients fast – receive and track payments online. Use built-in powerful features to manage recurring invoices and payments. Combine this with easy transitions from estimates and quotes to active invoices and you will discover how it will help you to develop your business.
Invoice Home
It is a straight forward free online invoicing tool that helps you get paid faster. Separate yourself from your competition using one of Invoice Home's 100 beautifully designed templates. Take advantage of the invoice template features by personalizing your bills with your logo, sending your invoices directly through email and getting paid online using PayPal or by credit card. Check out the different invoicing options and features below and never send out a boring invoice again.
Features of Invoice Home:
Create an invoice fast with important details such as addresses, line items, totals, tax and terms and conditions.
Save time and money by using one of the 100 free invoice designs. Create and send invoices easily, for free.
Use this form to add purchase order numbers, unit prices, quantities and a due date to keep your invoicing organized.
Easily download, print and email your invoices as PDFs. Save and store your documents conveniently.
Invoicely
It is a free, simple and secure invoicing tool for small businesses. Save time and get paid faster with recurring invoices, and send automatic payment reminders to secure your cashflow. Accept credit cards and many payment gateways from day one, and let clients pay right from your invoice — even on their mobile device.
Add taxes, discounts and shipping to single line items or invoice totals and lean back — invoicely does all the calculating for you.
Invoice Quick
It is a super easy online invoice tool for Small Businesses. Simplify your invoicing and stay focused on what you do best, managing your business!
Invoice customers on the go, create recurring profiles and save your items for future use. Get paid faster and keep track of expenses. Easily customize of your company, settings and invoices. In January 2019, company rolled out a complete overhaul of the Invoice Quick software and added two plans; Free and Professional.
Zervant
If you are looking for a Quick, easy and free invoicing software then you can try Zervant. It is Simple to use and its intuitive invoicing takes only 60 seconds to create invoices– add your customer, your product, hit send and you're done!
You can use Zervant for free, as long as you want. However, should there ever be a time where you need additional tools such as e-invoicing, paper invoices, payment reminders, time tracking and more, we've got you covered.
Wave
Wave is a popular cloud-based accounting platform that is built for freelancers and small businesses. Although Wave will require you to opt for a paid plan if you wish to seek custom support, the free starting platform is enough to get any small business started with accounting tasks. With Wave, you can track your outgoing expenses, create business reports about finances, create and send invoices, connect your bank details and so much more! Whereas many other similar platforms would enforce limitations, Wave stands out with the fact that it offers unlimited capabilities for all of its features. This means you can use it for as many customers, invoices, expenses and reports as your business needs.
How much does invoicing and billing software cost?
Online invoicing software are mostly offered under free versions as well as paid versions. Based on your requirements and needs you can choose between the free and paid versions. Invoicing software cannot really stand alone on its own because, to be able to exactly perform its functions, it must one way or the other use some accounting processes. Therefore, most invoicing tools are bundled along with other features such as payment gateway or in a complete accounting software solution.
Prices are based on free apps for small businesses with a couple of dozen customers or fewer, to apps with double-figure pricing per month depending on the number of users and business customers with most advanced features to support financial processes. Invoicing software pricing is based on Basic features to Starter to Pro and Enterprise offerings which costs much higher.
Cloud-based invoicing software for Small Businesses are offered under both free version and paid version, keeping in mind the needs of growing businesses that cannot afford expensive software.
You should always do your research about the price offerings of various vendors and compare and study them carefully.
Cost along with features is always a major factor in any software acquisition and a free one may not really have the features you need while a more expensive solution may fall short of your expectations.
Bottom Line
No matter which invoicing software you choose based on your need, the above list presents you with the best options available on the market.
Keep your invoices professional looking for customers, manageable for accounting and tax filing purposes with any of the above mentioned free online invoicing software for Small business.
How to Cancel Primerica Online?
How to choose the right email client for business?
How to calculate working hours in a year
Bank of America for Small Business Banking
Jbilling Opensource Billing Software
How to use linkedin to advance in your career or grow small business?
Best Payroll Software for Small Business
Famous Quotes by Entrepreneurs
Best Advertising Ideas for Small Businesses
Free Marketing tools for home business
Profitable ecommerce business ideas
Secrets to increase sales for Small Business
Note: Get a Business Website Free with Free emails and success online marketing for 365 days in All-in-One-CLOUD by ADVANTON. Get Started Free and build a strong Online Presence like other 10000 small businesses.